Around this time last Saturday I was finishing up a photo shoot with Ashley and her fiancé Justin. And this Saturday? Well, I'm working! But it's okay, I like this work – especially when I have so many photos to share! 20! That's right; I'm posting 20 photos from this session! That means even more will be on FaceBook and MySpace soon. I am so blessed to do what I love and to work with amazing couples like Ashley and Justin. Okay, I am a little bias because Ashley is one of my best friends and former roommate. Last October I received a text messaged at two in the morning that said "Justin & I are engaged!" I was so happy for her! Little did I know then that I would be photographing their engagement photos just a mere 9 months later. Oh, how life changes! Good changes at that. Anyway, I drove to Ashley's home on the other side of Springfield, TN with some reservations. Not about them or their photos but about the weather. It had been cloudy the whole day and I was worried the sun would never show its face. However, much to my delight, the sun popped out many times during the photo shoot.
Ashley and Justin were up for anything. And so I made them lie on the ground! Since Ashley's dad David had just mowed the lawn, they got grass all over them, but it didn't bother them at all. They also humored me when I asked them to dance in the middle of the road with no music. (I think I'll sing to the next models I ask to dance… hehe) Ashley's mom Judy helped make them laugh for me and also catch some great poses. I posted one of those poses below and it has become a top favorite of mine from this session. I honestly think that even if the sun hadn't showed up for the photo shoot, it would've been wonderful anyway because my models were so wonderful! And even Gertrude made a few appearances. That's Ashley's fabulous dog. (And my dog Hollywood's next girlfriend… hmm, that sounds like a reality show, doesn't it?)
I had such a blast with Ashley, Justin, David, Judy and Gertrude of course. I am so excited for Ashley and Justin to finally see more images from their session. Don't worry, you two, you'll have many more to look at soon!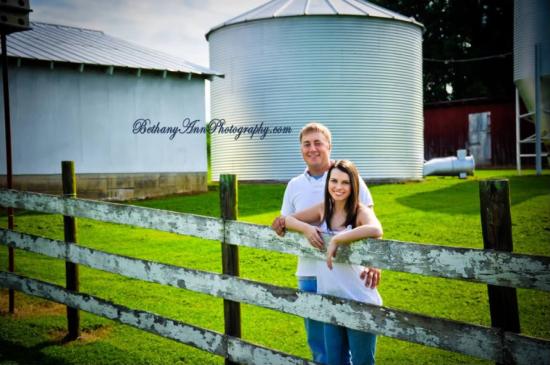 Okay, truth about this photo? They had their eyes closed! But, I think it makes for a nice detail shot.





I call this "Dancing to no Music".



Sweet!



Super sweet!





Justin



Ashley



Ahh, the country life!





Love this detail shot. So simple. So adorable.



Ashley's eyes are so beautiful! After three years of knowing her I had never noticed until the photo shoot! Shame on me!



Love this!







Right before I shot this next photo, I said "Don't do anything cute, I'm going to change my lens." About five seconds later Judy said "That would be a great picture!" Some of my favorite shots are the ones not planned. Seriously, how cute are they? They just positioned themselves like this when I turned my back! Cuteness times 10 for sure!



Isn't Ashley's ring gorgeous!? The center stone was her grandmothers. Such a great idea!



The lovely Miss Gertrude.



Ashley and Justin, thank you so much for spending last Saturday afternoon with me! I hope you are having a wonderful weekend. I can't wait for your January 2nd wedding!
Keep an eye out for more images coming soon on FaceBook and MySpace!
Best,
Bethany Ann