I have my first engagement session of the year this weekend and I am pumped! I love engagement sessions. It's a way for my couples and I to get to know each other while capturing fun, romantic images of them to showcase at their wedding.
In the spirit of my first engagement session of the year, I've decided to put together a few engagement session clothing options for any ladies out there who might need assistance on what to wear.
I always advise brides of the following when picking out outfits:
wear something comfortable – and definitely bring comfortable shoes to walk in (even if they aren't the ones you wear for the images)

solid colors work best
sometimes red looks funny on camera, as do stripes & patterns that are too close together
bring accessories like scarves, hats, belts, jewelry, additional shoes, jackets, etc.
bring your smile and relax!
Since I am a Gap fanatic, all but a few of these pieces came from Gap. I did pick out a few from Banana Republic that I loved, as well. I have the links to the pieces underneath the collages.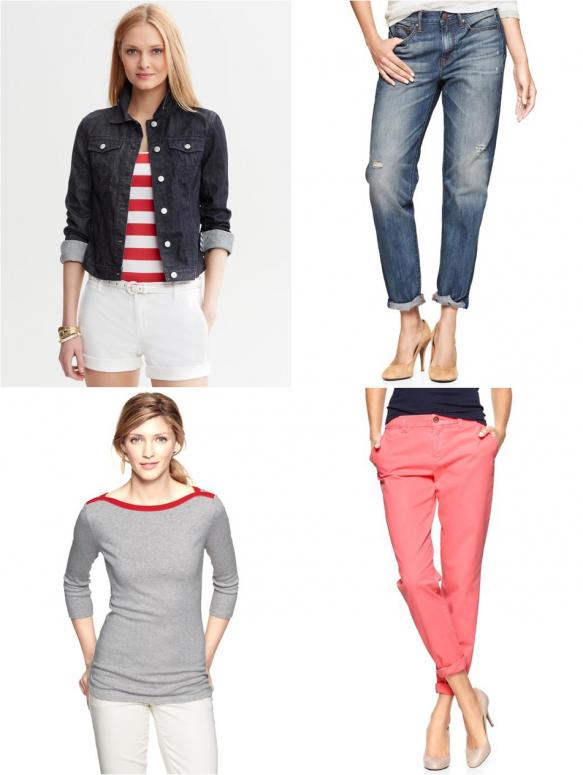 I love the entire outfit in image one, but if you are a jean lover like me, the cropped jeans in image two would go great with the dark denim blazer & red and white top. This gray top with its red tripped neckline goes great with the white pants in the image, but I also think it would look nice paired with coral cropped pants.
Denim blazer – Banana Republic ; Cropped jeans – Gap ; Gray & red top – Gap ; Pink cropped pants – Gap

I love simple dresses, and this blue one caught my eye immediately. It's vibrant and classic. I think patterned shoes, like these polka dot ones, look great with this solid dress.
Polka dot shoes – Gap  ;  Blue dress – Gap


The dress on the left is so nautical! I really had to stop myself from hitting "buy" when I saw it. ;) The pink dress is more of a relaxed outfit that would be great for a country engagement session.
Blue & white dress – Gap  ;  Pink dress – Gap 


While I think this purple top looks nice with the dark skirt, I think it would look even better with white jeans, especially for a summer engagement session.
Purple top – Banana Republic  ;  White jeans – Gap


I like the white top, but I'm not feeling it with the striped skirt in the image. I think it would look great paired with either the green cropped pants, or the mint colored shorts.
Green cropped pants – Gap  ;  Mint shorts – Gap  ;  White top – Gap



I'm really loving pink these days. I think layering this pink blazer with the different shade of pink shorts would look so cute – as long as the shirt is a different color completely. I also think the gray & pink polka dot shorts are to die for! It would look super cute with the pink blazer also.
Pink blazer – Gap ;  Pink shorts – Gap ; Gray & pink polka dot shorts – Gap
Enjoy engagement clothes shopping! :)