ShaRee & Kevin's couple session was one of my very first couple sessions. I am so glad they let me use them as my models way back in the day. :) Then the most exciting news happened: they got engaged this summer!!! So, of course, I was so thrilled when they asked me about taking a few engagement photos! Here are their teaser images. ShaRee is my cousin and I've never seen her so happy. Kevin can make everyone laugh, at all times. It's great! And apparently every time I say "That's cute" or "That's so cute" it makes Kevin and ShaRee laugh! :) We should have counted how many times I said it. Oh well, the next session we will definitely count it! :) They are getting married in November and it's fun talking weddings with ShaRee. Just the other day she let me know that Hobby Lobby was having a sale on wedding items. Number one, I had no idea they had a wedding section, since I'm always in the framing section. And number two, I didn't know they had an e-mail list that tells you when the sales are going on! (Which, I still need to sign up for!) ShaRee even knows what my dress looks like and I know what hers looks like. (Kevin, it's GORGEOUS! ;) You will love it.)
Anyway, we met in Downtown Clarksville and Riverside for these images. I'm so happy with how these turned out. It's easy to capture great images when you have two people so in love! :)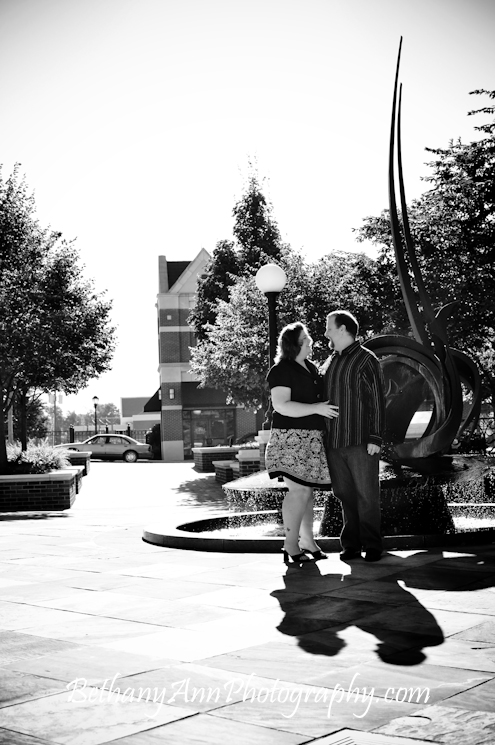 Laughing: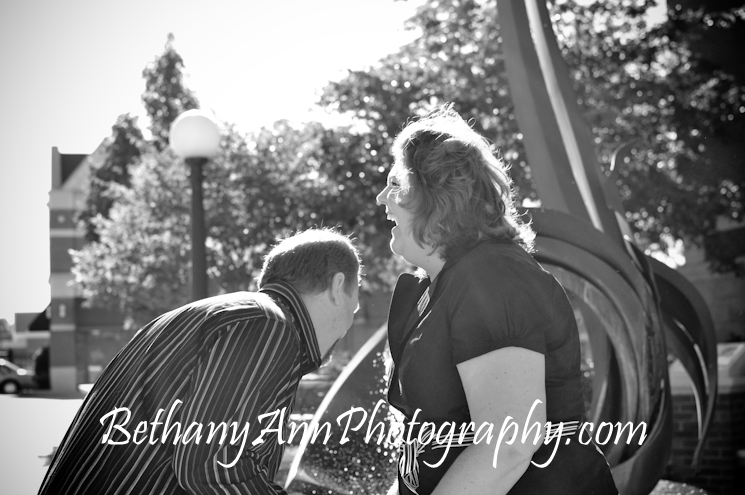 Kevin calls this fountain his fountain because he found it spontaneously one night! :)






I love the blues and greens against the red brick in this one:


So sweet:


Using the stairs was their idea and it turned out nice. Kevin makes ShaRee laugh 99% of the time. It's amazing!


Sweet kisses! By the way, this building is the courthouse. At one point, ShaRee started singing "Going to the courthouse and we're gonna get married!!!" :) That's not what ShaRee & Kevin are going to do, but that's what our grandparents did!






In addition to loving ShaRee, Kevin loves architecture. This building was perfect for showing off his love of both! :)


I'm going to call this one "Inside an Empty Parking Garage."


They were standing in front of a tattoo parlor for this next image, and thankfully it was empty for our 8 o'clock session. Otherwise, I probably would have passed it by.


I'm not sure what store this was, but it looks rather home-y, don't you think!?




These two are just SO CUTE!!! There, I said it! :)


Forever:




I really liked this spot because it was as if they were all by themselves:


Down by the river:


One more:


Thanks for stopping by! :)
Bethany