When Tabitha asked me about photographing her wedding, I silently said, "Oh, please, pick me! Pick me!" You see, Tabitha and I went to school together so I knew that 1) she was friendly, outgoing, and sweet, and 2) she was so darn fashionable. I knew that whatever she did for her wedding would be fun, gorgeous, and a wedding I didn't want to miss. Thankfully, I won't have to miss it! I'm going to be a part of it next August. (Thank you, for picking me, Tabitha & Bailey!)
When Tabitha asked me if she could arrange a 1950s inspired engagement session, I contained my excitement into a simple: "Yes, please!" On a cloudy day we spent six hours (Yes, six hours!) together taking these images. I am so appreciative of these two, along with Tabitha's mom, Mrs. Tammy, the Soda Shop, the lovely gentlemen who let us borrow the amazing car below, and everyone else who came along to make sure everything came together for Tabitha & Bailey.
Bailey is exactly as I imagined, you know, as much as you can imagine about a person only seeing their photo on Facebook. ;) But seriously, he is the exact match for Tabitha. He is very easy going with a humorous side. I loved how he tricked Tabitha into thinking she wasn't getting engaged the night he proposed. It worked like a charm, and so when he really did propose to her, she was genuinely surprised. :) Tabitha said that when they got together, everything just clicked. It was just easy between the two of them and they knew they were finished looking for a life partner. It's  such a wonderful time for the two of them. They are planning to wed at Scarritt-Bennett in Nashville, and more importantly, planning their life together. :)
Before our session started I arrived early and photographed her gorgeous pear shaped diamond engagement ring. Tabitha, you are a girl after my own heart! I LOVE pear shaped diamonds. I took way too many photos of it, but I'm not ashamed. Obsessed? Maybe. But not ashamed. ;)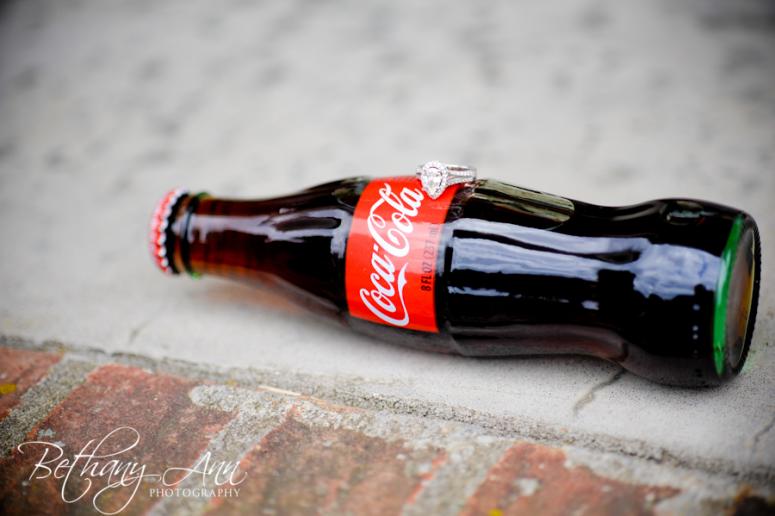 This is the only aspect of her wedding shoes I'm going to show you. They are divine, by the way! ;)


We started the photos at the church Tabitha's parents got married in. And guess what? Tabitha is wearing the dress her mom wore! Adorable!


:)


One of my favorites:










Another favorite! I asked if we could pull over to a barn I noticed on the way to the church. Loved it!














Yay!






Love this!




Sweet!




Soda Shop!




Their wedding date? 8.04.12:


Tabitha's new last name next August will be an M:
















:)






































Gorgeous!














Have a great night!
Bethany
Contact Me!     Facebook Friend Me!      Like my Facebook Page!