What does a cold day, an engaged couple, a bridge, a waterfall, a burnt down restaurant and a silly photographer have in common? Nothing until today! And let me tell you, it was cold out there. Anne & Kyle braved it for me though. I loved Anne's jacket and I'm glad we got to use it for the last few shots. (And I know she was probably glad since it made her a little less cold!) Anne is from Minnesota and is down here in Kentucky to visit Kyle for the holidays. How did these two meet? Kyle went to school in Minnesota and met his soon-to-be bride. :) Anne's sister found my website, (Hi to all of Anne's family in Minnesota!) and I'm thankful she did. I would have never known how much fun these two are if she hadn't suggested me to them. Okay, I'll talk more later about our time together. Onto the pictures!
It just can't be a teaser post without a blurry picture. ;)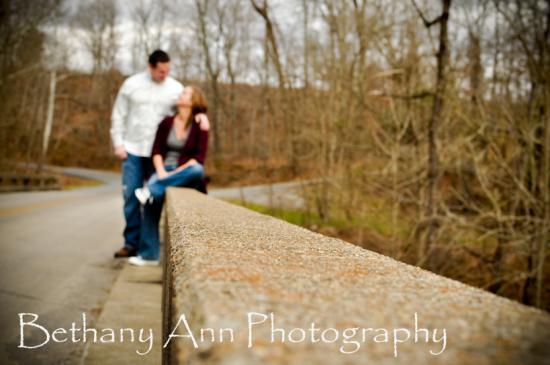 I adore this brick fireplace. It was one of four fireplaces that were still standing from an old restaurant that burnt down years ago.



They are getting married on 10-16-10. Anne and her sister thought of this! Such a neat idea. :) This picture makes me very happy. They kept each other laughing, which probably helped ease the cold a bit.



Anne suggested this and so they climbed up the burnt rubble for this shot. Look at this cuteness!



More coming soon! Tomorrow I'm posting Angela, Terry & Little Terry's family session so be sure to stop by. I'm off to watch the season premier of Everest: Beyond the Limit. Even though I'll probably never, ever climb Mount Everest, I'm so addicted to the drama of it. I just love that show!
Until next time,
Bethany