Since moving this June, I've became addicted.
Addicted to Grey's Anatomy.
(Yeah, yeah, I know. A little late to that party. ;) )
Seriously, it's bad. Like, now I-have-all-the-seasons-on-DVD-Addicted.
I tried to resist SO MANY TIMES. For starters, I didn't like Meredith Grey's voice, or Christina Yang – like at all. I didn't get the story line, and I thought it was Lame. With a capital L and all.
But, when our cable was hooked up, it was the ONLY thing worth watching on the TV that day, so I did what any normal human being would do:
I set it to record all of them… and thus fell in love with the show… and Christina! And Meredith! Ah, I just love that show.
Shortly after recording them all, I realized I needed all the DVDs because I was missing information and not fully understanding some of the story lines. So, I did what any normal human being would do:
I ordered the DVDs on Amazon!
Since then, I've been watching the DVDs on my laptop beside my iMac, so I can edit AND indulge in my new addiction. I've almost made it through all of the seasons twice, with the exception of Season Eight, since that just arrived last week in the mail. Yes, yes, I am addicted.
Now, what does all that have to do with The Anatomy of An Image? Well, just like I absolutely HAD to find out the back story of Grey's Anatomy and thus buying the DVDs, sometimes it is nice to know the back story. Sometimes it is nice to get a little peek into what goes into making an image happen. Here is a little peek into the making of an image from Connie & Luke's Houston Station wedding.
In the preview post, I posted this image: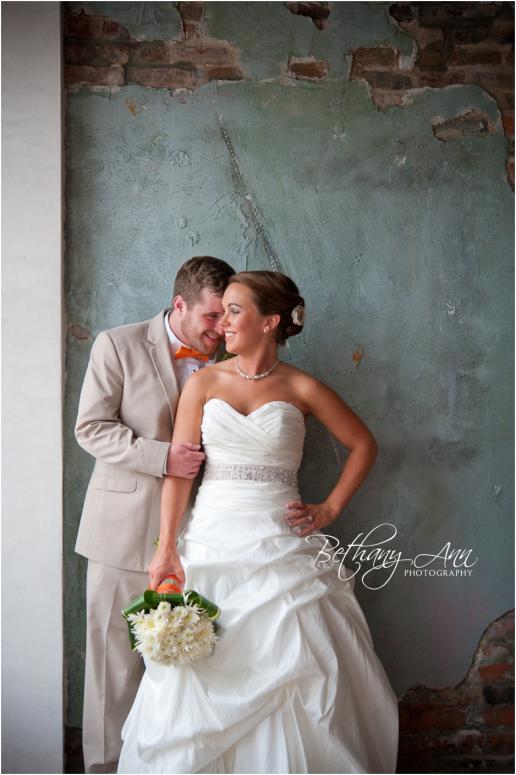 Connie, Luke & I found that amazing blue wall in a back room at Houston Station. Thanks to my assistant photographer for snapping this behind the scenes image of me working: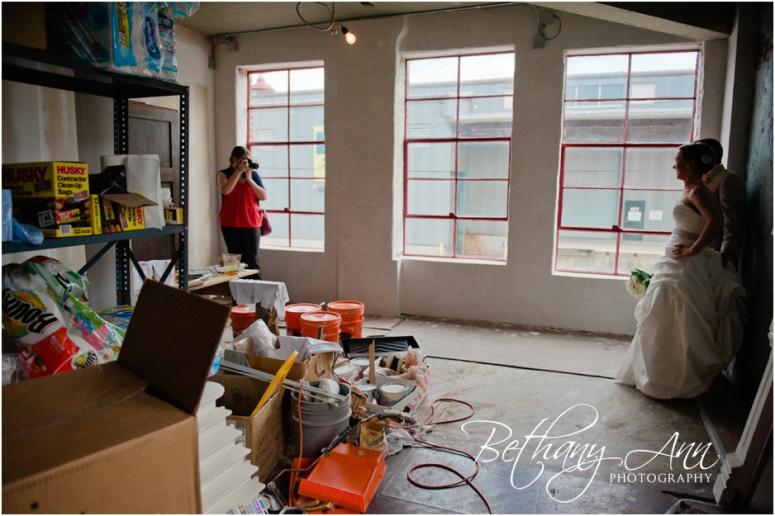 As you can see from the image above, the three big windows provided such a wonderful flood of light to the right of Connie & Luke. As you can also see, we were in a construction area, so I didn't want Connie's dress getting dirty. I positioned Luke slightly behind Connie and had him hold her dress, without being noticeable. This provided a nice pose for them, and I continued to work around and within the area, with the dress hid or by having Connie hold it. (See more of those images tomorrow, on their full blog. ;))
I photograph in manual mode always, so here's a breakdown of the exposure. I knew I wanted to have both of them in focus, along with the blue textured wall, so I picked an aperture of 3.5. That way, when I focused on Connie & Luke, they would be in focus, as well as the blue textured wall since they were standing so close to it. I just loved that wall to pieces! Then, I knew if I had exposed fully for the shadowed side of the image (the right side, by Connie's elbow below), I would have blown out the left side of the image. I picked an ISO of 1000, which is a bit higher considering the amount of light in that side of the room, but I wanted to combat overexposure while still being able to set a high shutter speed to stop any motion or movement. My shutter speed thus, ended up being 1/800 of a second. Since I exposed for how I wanted the image to look in camera, the post processing side of this image creation was very minimal: just a bump of vibrance and contrast, as well as a slight vignette. And voila! An image is created:


I just love Connie & Luke, and that they were all about photographing in an abandon room because of that cool blue textured wall. ;) Tune in tomorrow to see their full wedding blog!
Have a great rest of the day,
Bethany