I love love love fall. But, you already knew that, right? :) On Monday, I spent a few minutes outside photographing nature in all its gorgeousness and, consequently, I felt like a hippie. It was wonderful! If I didn't already have a ton of stuff on my to-do list, I would go back outside and take more right this second. That's how much I love fall. :)
But I must press onward into the editing world, which brings me to this post. While I was outside Monday, I turned the camera around and took a few photos of myself. I had SO much fun and liked the images in camera already.
Through editing, I was able to add a little something special to the images. All of the editing on this particular image was done in Lightroom 3.
So, here's a before & after of a self-portrait I took on Monday:
Left – Straight out of the camera, shot in RAW format, with my Nikon D700, 60mm 2.8 & exposed at: ISO 500, F/3.2 at 1/1250 of a second: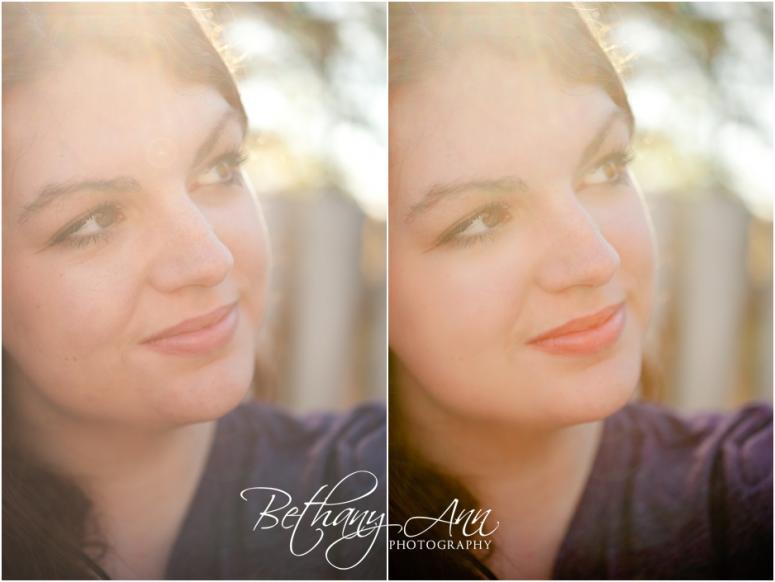 Right – Skin smoothing (hey, I'm human, & yes, I do love lightly smoothing out imperfections ;) ), saturation & vibrance increase, warmth increase, a little fill light, a touch of contrast, removal of the sun flare spot in between my eyes, a little brightening of my eye color, and boom! The final product that I loooooovvvve! Is it creepy if I just hang this photo of myself in our house? ha!
Have a great weekend, you guys!
Bethany