I'm pretty sure I have a bruise on the top of my foot. How funny is that? It's all in the name of photography! I've had some fantastic engagement sessions lately, and last night was no exception. :) It involved an impromptu night photo shoot in Downtown Clarksville. Here's one photo from that: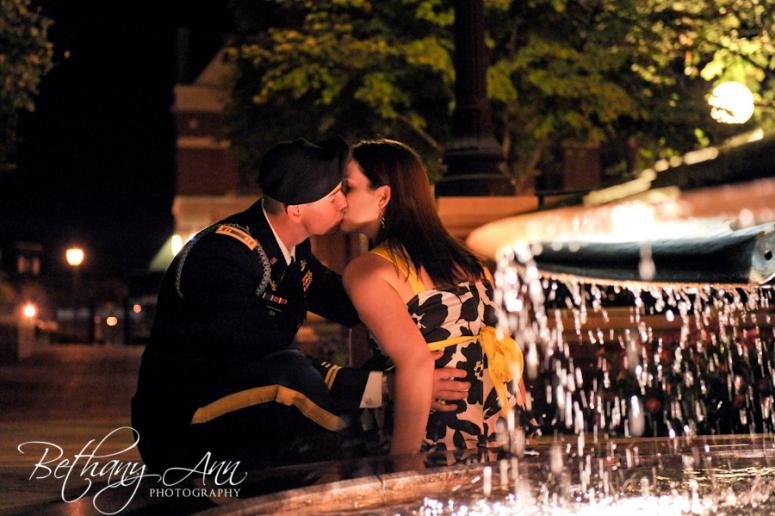 In other news, after a year and a half of having absolutely nothing hanging on our walls in the townhouse (other than my office), I decided to hang up a few wedding canvases. And oh-I-love-em-so-much! I'm already planning on buying more to hang up, but for now, check it out:

I think Rick would prefer us not to have a pink Dance throw on our couch, but it's the warmest blanket ever. My parents bought it for me years ago, and when I moved out I think they were sad to see it go. ;)
Is it normal for a five year old cat to chew on everything like a six month old puppy?! I swear, Lexi is chewing on everything from tissue boxes, to books, to my iPad cover. It's pretty crazy around here. So crazy that last night after I got home from my shoot, Rick threw a gummy bear at her. Yes, Rick THREW A GUMMY BEAR at our fur-baby. Haha! It made her behave though, because she was so curious about it. Don't worry, she didn't eat it; she just sniffed it. Even though she chews on everything, she's a snob when it comes to food!
Don't let her girlish figure fool you; she's not this innocent:


Okay, so now that I've made you laugh, (hopefully!) I hope you have a wonderful, wonderful day! :)
Bethany