This morning, so far, guess which of the following things have happened:
A) Rick threw my toothbrush in the trash.
B) I cried.
C) I made dinner before breakfast.
D) I spilled an entire glass of tea all over myself, the desk, and the floor.
If you guessed all of the above, you are correct!
It's been a crazy morning and it's only 11:00! So, Rick threw my toothbrush in the trash. He mistakenly thought it was his and used it one more time before throwing it away. (He bought a new one last night). So, I woke up, saw my toothbrush in the trash and interrogated him:
B: Which toothbrush is yours?
R: The pink one.
B: Which toothbrush did you throw away?
R: Umm, the green one.
It's really my fault; a few months ago when we got the pink & green toothbrushes, I thought it would be funny if he had the pink one and I had the green one. Yeah, the joke's on me now! ha!
So, what did I do this morning about my stinky morning breath? I ended up using the new toothbrush he hadn't opened and I hate it! I am going to have to buy a new one now. :) And I guess he is too – or maybe he'll just use the new one that I have already used! Marriage is weird, y'all!
And I cried because I chopped onions, duh! I wasn't about to cry over a toothbrush. ;)
I made dinner before breakfast via the crockpot; man, I love the crockpot!
And yes, I spilled an entire glass of tea all over myself, the desk and the floor when I was trying to watch this video where a lady has 130 cats!  It made me laugh so much!
So, speaking of cats, the cats are doing great! I love Murray and Lexi so much. I am an insane cat mom… as evidence from the following iPhone photos: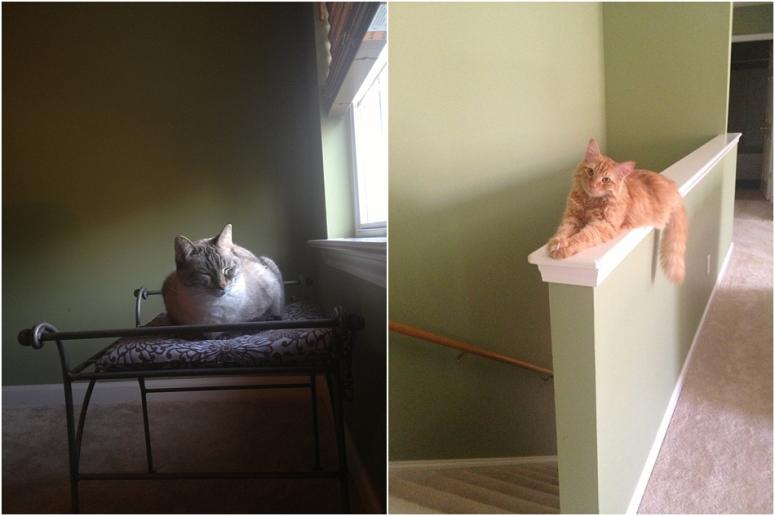 Yeah, Murray isn't supposed to be up there. He's so darn sweet looking in the photo though! I'm just afraid he will fall down the stairs one day.
We had my friend's sweet little dog stay with us last weekend. Lexi & Murray weren't too happy, but they followed him around like he was magic. It was funny.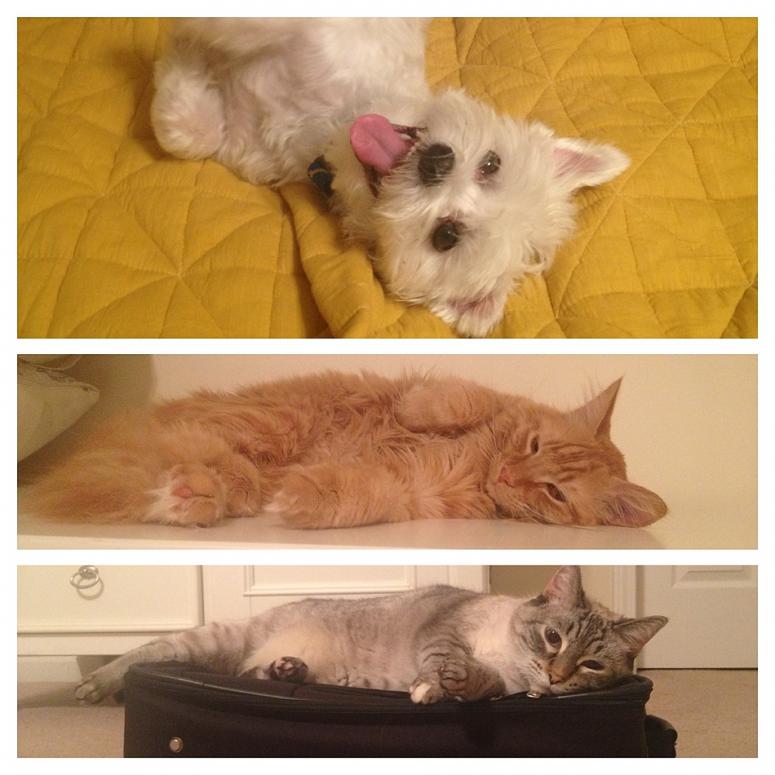 I seriously can't brush my teeth alone anymore: 


And Murray loves sitting in the sink now. It's his new favorite thing: 


I can't help but think of the JAWS theme song when I see this photo. 


Lexi is still my best girl! Love her so much! 


I adore this photo: 


Okay, okay! That's enough cat talk. ;) Have a great rest of the day! I will be back soon with some wedding images to share with you.
Bethany