On Friday, I asked Rick if he would like to cook with me. It's always been either me, or him, but never both of us, cooking. So, while he made the broccoli, I made the chicken and squash. And you know what? We didn't kill each other with spatulas!
I know Rick cooked the best broccoli ever, but I mistakenly thought I liked broccoli. After a few bites, I covered it with salsa so I could eat a few more pieces. You know, just to be polite to Rick's feelings and all. And even though I love salsa, the salsa didn't make me like the broccoli any better. Boo for Broccoli!
So, other than that realization, dinner was good. I'm glad we cooked together. We even cooked again together last night. We made a meatza! It's like a meatloaf, but like a pizza too. It's delicious! Click THIS LINK for the recipe if you are interested. :)
Okay, now, back to Friday Night. On Friday night I arranged our closet by color. Yes, I am a bit OCD; however, the last time I organized my closet by color was over six years ago, when I was in high school. I can't believe it's almost been SEVEN years since graduation. Crazy! Anyway, here's a look into our newly organized closet: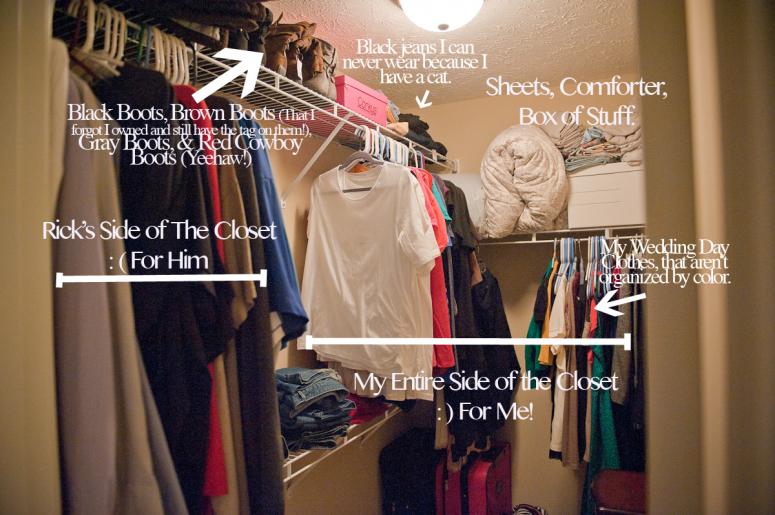 So, as you can see, I have shoes that I have never worn and even forgot about, while Rick has the front, tiny, portion of the closet. When I told him I rearranged our closet and he had less space than I did, all he said was "Figures." I guess husbands just know their wives are gonna take up 95% of the closet. ;)
Saturday, I had a blast photographing Cooper's 6 month images, and hanging out with his parents. We even went out to eat!
Then yesterday, we stayed in most of the day, with the exception of dropping my car off for an oil change, and visiting a few stores. I say stores because I am sending a surprise to a few special people and I don't want to ruin the surprise. Does the fact that I just mentioned I was sending a surprise ruin the surprise? I sure hope not! I mean, after all, they don't know who they are.
And like I said above, then we cooked dinner together again yesterday. I have to tell you, I always thought the "husband & wife" cooking thing was a myth. I am happy to say, that it is not a myth, and I hope it happens again. But, as Rick pointed out, we need "manly-ier" oven mitts. Details!
All in all, I had a pretty great weekend. I loved the weather, the company, the relaxation. I am excited about this upcoming week and all that is occurring on the blog, too. Coming this week to the blog: Taylor's Senior Photos, Connie & Luke's Wedding & The Anatomy of An Image. Be sure to visit again soon.
And just because, here's a pretty photo of Table Rock Lake in Branson, Missouri:


Happy Monday!
Bethany