There's a tool in Photoshop called "Content Aware" that basically lets you "delete" anything in a photograph and then it automatically matches, rearranges, and prettifies the deleted pixels to similar pixels around it. BaDaBing! Easier removal of 'stuff'. Here's an example: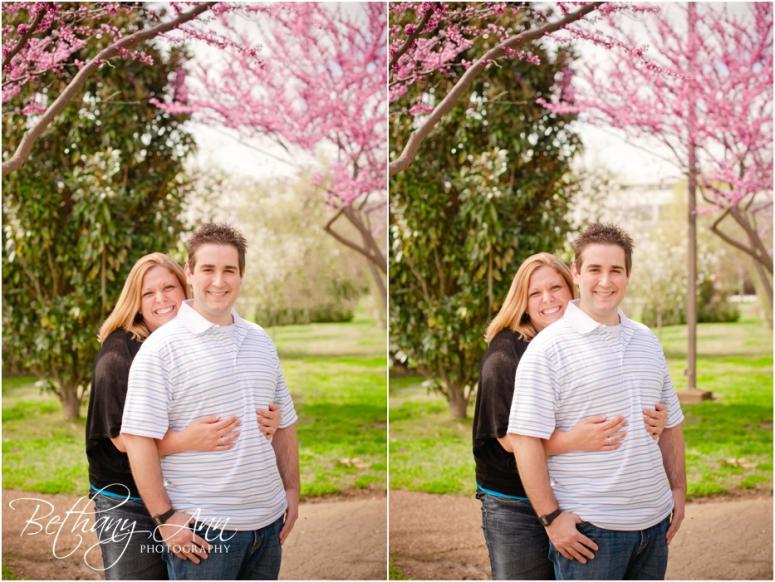 How cute are they?! I definitely didn't want the pole behind them to hinder the image, so I deleted it! Love it. :)
But, this post isn't about how cute Karrie & Alfonso are, or about deleting poles, or about Content Aware in Photoshop. It's actually about Facebook, Twitter &  social media in general.
As a business owner, and long-time social media addict, (I joined Facebook in 2006! Crazy!), I have learned to I only put online what I want people to see.
I say "learned to" because the idea of only putting what I want people to see online seems SO simple, yet, like many people, it took a while for me to figure out that others do not want to see negativity. Years ago, before I started Bethany Ann Photography, Rick brought it to my attention that I was being a Negative Nancy online by posting statuses like, "Ugh, my head hurts." "What a terrible day." "I hate this or that." Now, at the time, social media was not as popular, or as prevalent in everyone's every day life, but when he brought that up, I immediately felt guilty. In the grand scheme of life, I literally did not have anything to complain out. I was just complaining to be complaining! And since then, if it ain't nice or happy or positive, I'm not going to post it.
Far too many times, I have noticed & heard people complain about how much drama social media causes their lives. I always want to ask, how are you contributing to that? Because if you are specifically posting negativity and hatred on your social media accounts, of course there will be drama. Negativity & Drama are BFFs.
This idea of being Content Aware via social media came to me when I was driving out of the blue. It was just a random thought, that I couldn't get out of my head. Weeks later, on this beautiful day, I just wanted to challenge everyone to be more aware of their social media accounts. Delete the drama! Life is so much bigger than social media, and it's not worth fighting or negative energy coming through a computer screen. :)
Have a terrific Thursday!
Bethany