The day after our wedding, Rick and I went shopping. This was a monumental day for me, because not only was I shopping as a married woman, but also for the fact that I actually bought a shirt (well, Rick bought it). This was amazing to both of us. We always joked throughout our dating relationship that I never shopped when we went shopping. Sure, I would buy one or two items, but never clothes (at least, none that neither of us can remember). I'm the type of person who has to absolutely, positively, love an article of clothing before I buy it. So, on the day after we said "I do" Rick bought me a shirt at New York & Company that I absolutely, positively loved.
Then we went to Eddie Bauer, and I unknowingly left it in the dressing room.
When we arrived home the next day, I realized I didn't have the bag. I searched all the luggage and bags twice. Devastated, I had tears in my eyes. I told Rick what happened, and he said it would be okay. That it was just a shirt. Oh, but it wasn't just any shirt. I loved that shirt. I had to have that shirt.
Luckily, I remembered we went to Eddie Bauer after shopping at New York & Company, so I called. I was absolutely, positively sure they wouldn't have it.
But, they did!
I remembered this silly story the other day while doing the laundry. Rick placed the Eddie Bauer shirt he bought the day after our wedding in the wrong laundry basket (again). At first, I wanted to throw an "I-told-you-to-separate-the-good-clothes-from-the-towels-a-million-times" fit.
But then I laughed.
No matter how many times Rick throws his laundry in the wrong baskets, I will continue to separate them with love. Just like he tolerates how "loud" I drink my Diet Dr. Pepper, and how I cry over lost shirts, with love. (Seriously though, he never mentioned this habit to me before we were married, so I'm sorry if I've annoyed anyone else with my apparently loud drinking skills). :)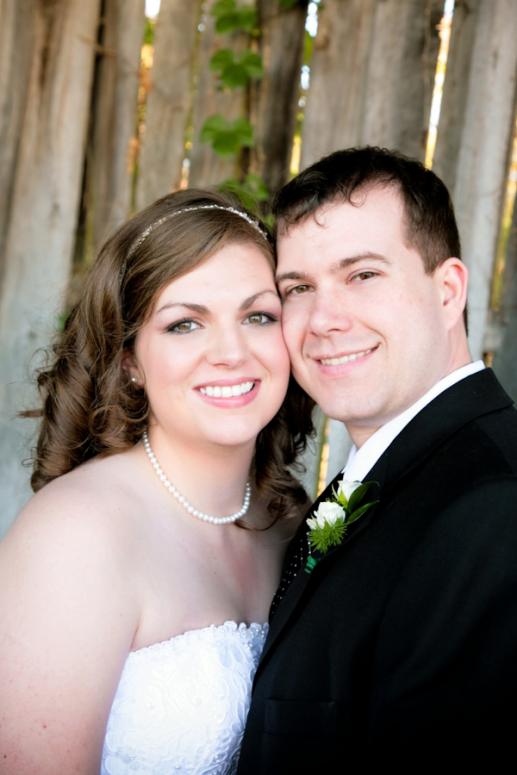 Photo Courtesy by Joan of Art Photography on our wedding day, October 15th 2010.
Happy Tuesday!
Bethany