Every time I see a plain, uncontrast-y black and white image, I cringe. Literally. It's a pet peeve of mine, and so I thought why not try to help out with how to make your black and white images really stand out.
The trick is that you want the blackest blacks and the whitest whites in the photo. The regular old "black and white" or "grayscale" button just won't cut it, 99% of the time. So, how do you get images that pop? Add contrast! Nearly all basic editing softwares that come with computers, (look for the "edit" tool when viewing a photo), have a "contrast" button or slider to increase or decrease the contrast. The more advanced the editing software, the more advance options you have to really emphasize the depth your black and white images. But, the main trick is still contrast. It makes a world of difference on your black & white images and really defines them.
Here's my step-by-step process of creating the perfect Black & White Image.
This is my friend Jackson. You may remember him and his sweet mom, Mamie from our October session. Last Saturday I had another session with them (plus five more amazing people! More on that later!) and I knew this photo would be a perfect photo to demonstrate with. 
This is straight out of the camera with no edits: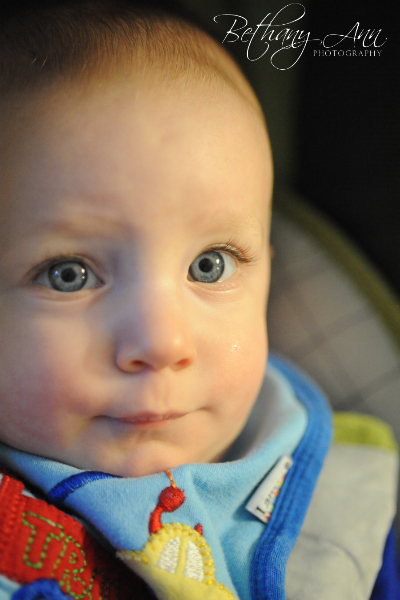 Now the image is edited with a few basic edits: color enhanced a bit, exposure bumped up a bit, fill light added, slight vignette added, and I removed a bit of shine from his left cheek. This is also when I knew this image would look even better in black and white. How did I know? The colors and shapes of his bib take away from his smirk and intense blue eyes, so converting it to black and white would redirect the viewer's attention to his eyes and smirk.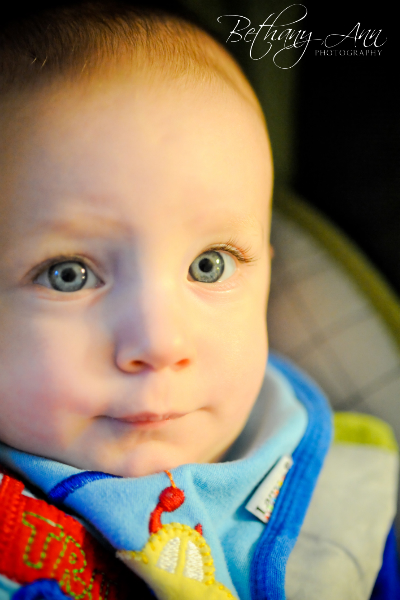 Here's a basic 'grayscale' conversion. This is where most people stop. While it's an okay conversion, there is nothing making the image stand out, or pop.


After hitting grayscale, I slid the contrast button in Lightroom over 60 percent. (Like I said above, almost all computers come with a 'contrast' button in the photo viewer's basic "edit" functions, so look around for the button or slider that says contrast after you convert it to grayscale). To add even more contrast, I bumped up the yellow temperature in Lightroom's white balance area, and I added a little more fill light. It looks so much better already, right!?


I wanted to add even softer feel and frame Jackson a bit more, so I added even more vignette to the final image:


I try to include a color version if I make an image black and white, but if there is only a black and white of the image, that means it really fits the photo better. When you hire me, you grant me artistic license to decide which images look best from the session or wedding, and which images should be black & white and/or color.
So, next time you want to create a black and white image, remember to add contrast! The results will WOW you. :)
Have a fantastic Tuesday!
Bethany