Monday evening, I found a chicken recipe on allrecipes.com and was really excited about it! When Rick called to tell me he was on his way home, I knew I needed to get started on it since he had a 45 minute drive and the chicken needed 30 minutes to cook.
I took the chicken out of the freezer and sat it on the counter. It was frozen solid. I thought, I'll just let it sit and thaw out, while I cook the bacon. Yes, this recipe called for bacon, just like the other one (Rick really loves bacon). I turned on the oven, got out the baking pan, ingredients, and fried the bacon, all the while expecting the chicken to be thawed by the time I was finished.
However, after the 15 minute preheating timer sounded, I looked at the chicken, and it was still frozen. So, I put it in a bowl of really hot water for five minutes. That still didn't work. I tried to take the packaging off of it, but it was frozen to the chicken. I ran it under even hotter water for ten minutes. The chicken then seemed to be a little bit flexible, so I took a knife and tried to separate the individual halves. Apparently, that made it worse because part of the chicken started falling off in huge globs of grossness!
I tried to salvage the rest of it by running it under hot water again, but even more chunks of uncooked chicken started falling off. The date on the package said it still good, so I have no idea what I did wrong! (Well, I know I should have let it thaw out for longer than 45 minutes, but I really thought hot water would do the trick!) All I wanted to do was make Aimee's Quick Chicken Recipe for crying out loud!
I don't know what came over me, but I was so upset that I just threw it all in the trash. I put away the unused baking pan and ingredients, and I sulked. I knew Rick would be home any minute and all I had to offer was five pieces of bacon. I imagined Rick innocently asking what was for dinner and shouting "FIVE PIECES OF BACON!" (Luckily, that didn't happen). I felt defeated with my five pieces of bacon. When he came home I declared I wasn't cooking ever again. That I hated cooking. That I ruined chicken before I even cooked it! I went on and on and I was such a whiney-baby.
Oh, but Rick was so sweet. He listened to me, then took out the trash (during my rant I exclaimed that now the trash needed to be taken out because the thawed out chicken would surely smell awful by the morning), and then he asked the sweetest question ever: 
"Do you want me to order wings tonight?" 
Oh, Monday evening, you were not my friend. Let's try again next week, okay?
Rick and I during our First Look five months and a day ago. Thanks Joan, for this amazing photo of the sweetest guy ever.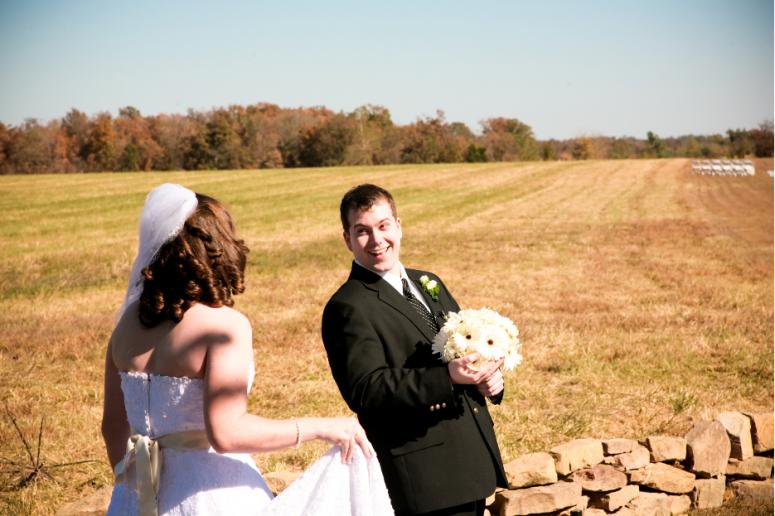 Bethany