On my photo shoot with Amanda & Evan, they told me they liked that my photos had a "different" look. Evan commented, "Who wants something that is similar to everything else?" and that made me smile. Different is golden when you are a photographer, and an artist in general. I don't want to be the same as someone else. I don't even want to be the same as I was yesterday. I strive to capture each of my couples in a different way. Sure, I might put a couple in similar poses as other couples, but the interaction in between the two is the real magic. Everyone reacts differently to certain experiences in life, and it's the same with poses. No two couples hug, kiss, laugh, walk, etc. the exact same, so it's a unique image every single time. :)
Anyway, while going through a few of Amanda & Evan's photos to post on Facebook, I stopped at a photo that I adore. I edited it only a little, and realized it would be a perfect before & after image.
Before:

After: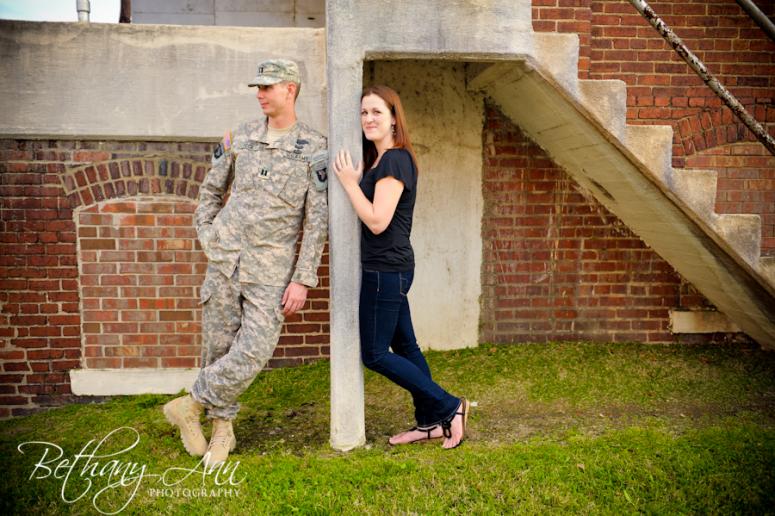 After I posed Amanda & Evan, I asked Amanda to look over at me with a slight grin. I like that the look on her face is so unique and genuine. And Evan? He had a smirk on his face too! :) As far as editing goes, I just tweaked it a bit. I bumped up the saturation and the contrast. I cloned out a few pieces of trash/rocks on the grass and added a slight vignette to the photo. I love that a few small changes like color and contrast can really make a photo pop. :) When I edit an image, I don't edit in a crazy, out there kind of way. I want photos to look like photos. I just want them to POP so the main subject, the couple, will remain the focus. :)
Have a wonderful Friday and a fun weekend!
Bethany