It is currently 2:32 AM as I'm writing this.
I am an insomniac.
I really like sleep, but I don't like going to sleep.
I wonder if it has anything to do with having weird dreams and nightmares?
Since midnight I have already:
searched through 13 pages of houses listed in the Nashville area
watched my promo video again, and come to the conclusion that after almost two years, it's time for another one
watched at least three episodes of Friends – including, The One Where Phoebe Runs, The One With Ross's Teeth & The One With The Ring
debated in my head on whether or not Rick would let us buy this million dollar mansion
flipped back through my profile photos on Facebook and enjoyed reminiscing
drank three glasses of water… which will probably come back to haunt me when I finally do fall asleep
re-read my blog about nightmares involving witches and trolls
watched this Harlem Shake Puppy video yet again – Rick and I watched it a few times this weekend and EVERY SINGLE TIME Rick laughed so hard he almost cried… almost
after watching the puppy Harlem Shake, decided we need a dog STAT
Googled the origin of STAT
And that brings me to this blog.
You know what I love?
Lexi.
(Bet you knew that was coming… am I right, or am I right?!)
This was about an hour ago when she snuggled up on my shoulder: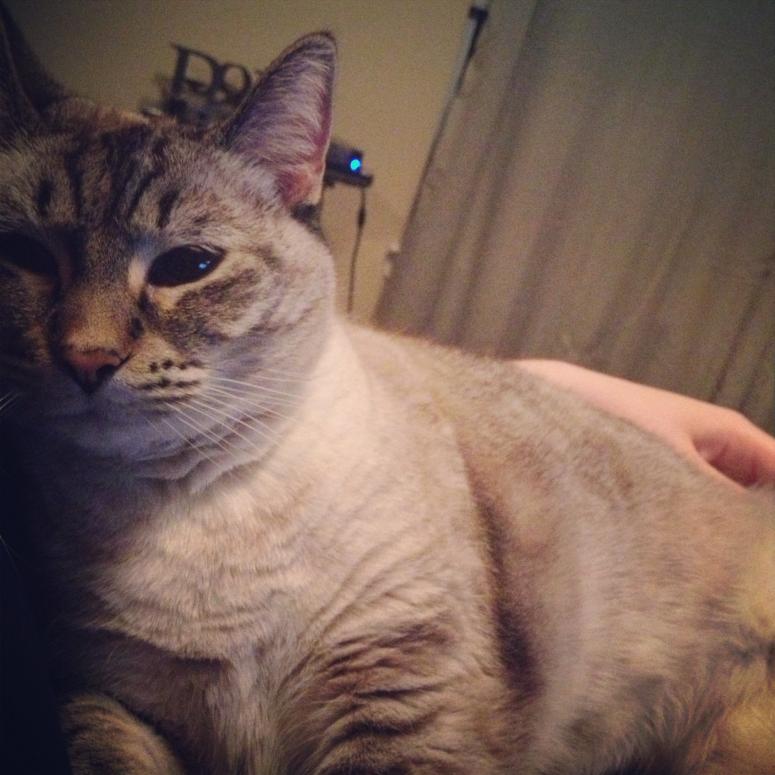 People often think that I am only a crazy cat lady. You see, this is simply not true.
I am actually a crazy animal lady. I love dogs and rabbits and birds and cows and horses. I have even come to appreciate snakes. (As long as they are in their aquarium at PetsMart.)
By the way, I really want a horse. Rick said no when I brought that up. I guess he's right, as it would be kind of random to have a horse living in the city. :)
Anyway, my point is, I am a crazy cat lady, but I love all animals, too.
Holding Lexi while wearing my new cat shirt:

Okay, okay – I'm going to go to sleep now. I have to go house hunting tomorrow – well, I guess that it is actually today. :) I ended up not going Friday because my realtor was sick. She's feeling much better now, and I'm ready to hunt those houses! ;) Okay, I'm for real going to bed now!
Bethany