This post was inspired by another photographer, Diana Elizabeth, and I loved her post so much, I decided to write my own. Even though it's not Friday, I ended up with five items, however, this doesn't count as my Friday Five. Plus, it's only Thursday, the last time I checked. ;)
Anyway, I stayed away from the "normal" items I've talked about, like hair mousse, my cat Lexington Mae, and basketball. Oh, and I stayed away from people, too.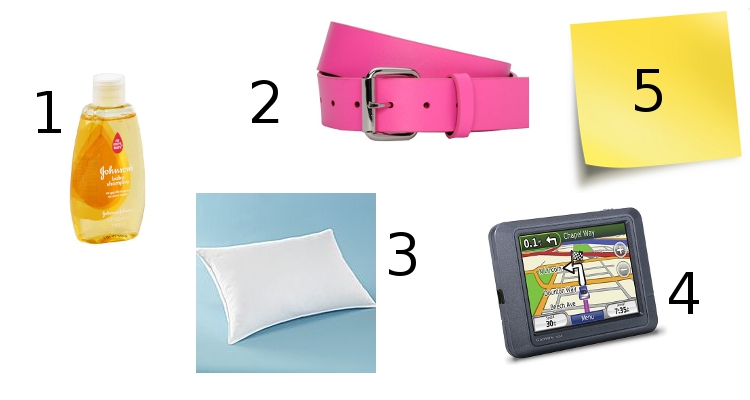 1) Baby Shampoo – Yes, baby shampoo. My high school's secretary, who I was a "student worker" under my senior year, recommended using baby shampoo to wash my make-up off and I've been using it ever since! It works like a charm and the "no tears" formula should be used for EVERY product that has the potential to get in your eyes. (Babies get all the cool stuff!)
2) My pink belt – This isn't the exact one, but I wear mine all the time. All. The. Time. I'm probably a walking fashion mistake, but I love it! I'm weirdly particular about belts, so when I find one that works, I'll wear it regardless of the color. :) Plus, it holds my jeans up. It's a win-win, for sure.
3) My husband's pillow – Every morning, after he leaves for work, I steal his pillow and immediately fall back asleep. There's just something so comfortable about his pillow. I don't sleep on it though. I hug it, or place it on top of me. Weird, I know, but those extra hours of sleep are a-ma-zing! Even Lexi likes it, because the other morning, the pillow laying on top of me felt strangely heavy when I woke up. Then I realized she was laying on top of the pillow! Silly kitty!
4) My GPS – Rick bought me this GPS for Christmas one year so I would 1) quit borrowing his when I go on photo shoots 2) so I wouldn't get lost. Actually, so we wouldn't get lost if we were ever in my car. Our first Valentine's together, before either of us had a GPS, we got SO lost going to Ruth's Chris in Nashville. (Thankfully, they held our table for us on the busiest weekend of the year when we called to get directions.) Then we got lost heading to Zanies. (Thankfully, the show started late.) And we are so directionally challenged, we never made it to Cold Stone (the one in Nashville, before the Clarksville one was around) and went to Johnny's for a fried honeybun and ice cream instead. :)
5) Post-It Notes – Post-It Notes make everyone's life easier!
Have a wonderful Thursday!
Bethany