Remember these cuties from their session last year?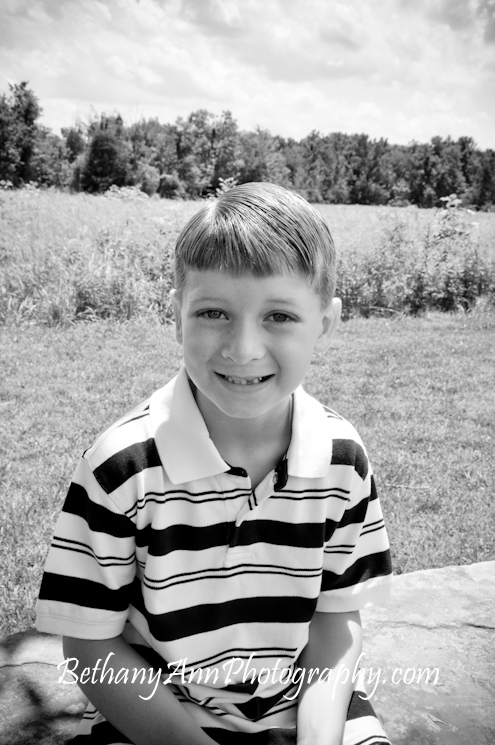 It is so interesting to look back at those photographs and see how much Austin, Dylan & Tyler have changed. I also get to watch them grow and change at all family events and holidays, because they are a part of my family! Travis is my cousin! With Kim, he has three adorable little guys on their hands. We were out in mid-day heat for these images, but that did not stop anyone. (I believe it was really hot during last year's session too, now that I think about it). I am thankful to my mom for helping me, because she made sure everyone was hydrated. We worked as quickly as possible and even had a fan outside to try to cool off the humidity. I'm not sure if it worked, but we had a blast non the less. I even have a funny image of Tyler's hair blowing because of the fan. I absolutely love this family and I'm so blessed to call them my family. Without further ado, here are the images of Kim, Travis, Austin, Dylan & Tyler. :)
Travis & Kim:




Right before Tyler gave me a hug. I didn't tell him to do it, he just hopped down from his mom's lap and headed over to me. So sweet! I like the concern on his face in this too! haha


I'm a fan of photos where all of the people aren't looking directly at the camera like in these next two.




I also like it when kids try to hand me stuff when I'm photographing:


:)


Tyler is 1 and a half now, and his expressions are so funny and unexpected.


Brotherly love:




Love these two:


So, a helicopter flew over really low:


And Tyler ran to the door to see what it was:


And stayed a while, watching me photograph Travis & Kim…


LOL! I love kids!!! Then it was the kids turn again, and check out Tyler's hair:


These three have the prettiest eyes ever:


Last year, I sat Tyler in that basket, so I wanted to recreate it this time too. He stood up when his brothers sat beside him:


But overall, he liked it!


Austin:


Dylan:


Tyler:






I love these images of Travis & Kim:




FYI: Totally their idea! LOL


The End:


Bethany Ann