Am I the only one who has gone MAD for March Madness. I can't get enough of it! I can't wait for this Saturday's game when UK takes on Louisville. Go Wildcats!
This weekend I spent some time in Kentucky visiting my parent's and my dog Hollywood (center photo below). He is a hoot. I wanted to get one simple photo of him and he wouldn't pose for me unless I rubbed his belly. :) I wish he could live with his sister, Lexington, here in Tennessee with us, but I know he wouldn't enjoy city living. ;)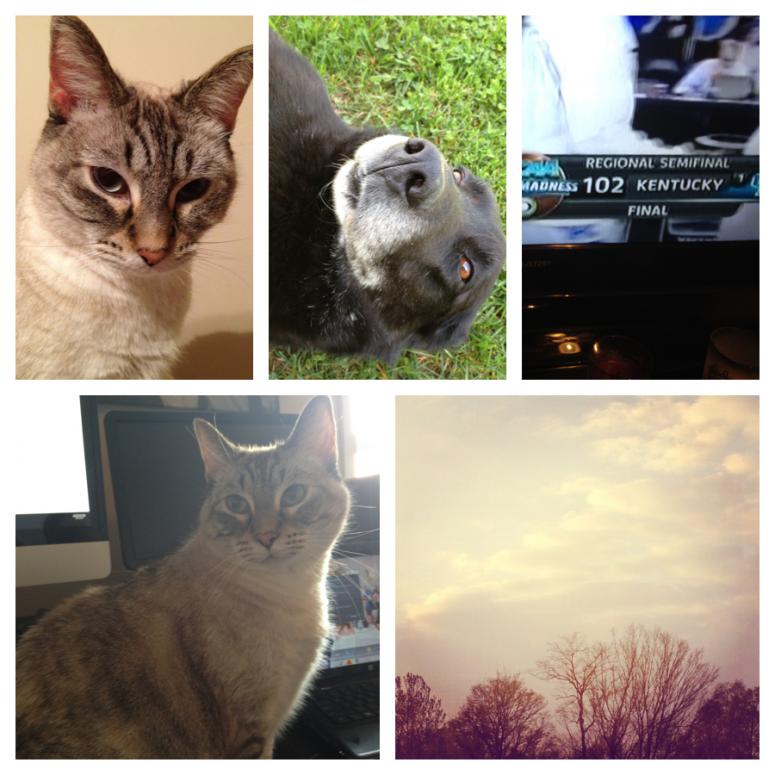 This morning, I grabbed a pink plastic bowl from the cabinet and filled it with strawberries – only to be hounded by Lexi. She thought that because it was pink like her bowl that the contents were for her.
So yeah, she scaled the office chair I'm sitting in, then maneuvered over to the arm rest, and then finally, the desk. All while I'm sitting in the chair defending my strawberries, people! Talk about a determined (and spoiled) cat! The bottom left photo is her sitting on the desk eyeing the bowl. I didn't make her jump down until she attempted to hijack my chapstick. She was so mad she couldn't have whatever was in that darn pink bowl, so she knew stealing my chapstick would suffice.
The bottom right image is the tree line out my back door yesterday. What you don't see is the busy road beneath it. It's awesome how a shift of the camera angle can totally shift your perspective. :)
And that, ladies & gentlemen, was my weekend.
Have a fantastic Monday!
Bethany