Yesterday, I fully intended on blogging. Fully. However, the day got away from me. I'm not sure how it happened, but I believe it began when I not-so-subtly invited myself on a lunch date with Rick. The conversation went as follows at 11:05AM:
"Hey, what are you doing?" -B
"I'm going to lunch." -R
"Well, are you inviting me or something because I'm about to walk into the bank." -B
"Oh yeah, sure! You want to go to Mexican?" -R
*DING DING DING* He said my favorite type of food. Mexican.
"Okay, I will leave the bank and head that way now." -B
"Well, I'm glad. I just called to see if you wanted to go to lunch." -R
And after we hung up, I realized the following: 1) I sounded a bit snippy about it, but I was literally in the foyer part of the bank about to walk in and needed to make a decision: stay or go. 2) I invited myself to lunch and Rick thought it was his idea by the end of the conversation. Plus, he even picked my favorite type of food. Mexican! I love being married. And despite your questioning in this text exchange yesterday, Rick, I do like you. A LOT. Hence the whole we are married thing.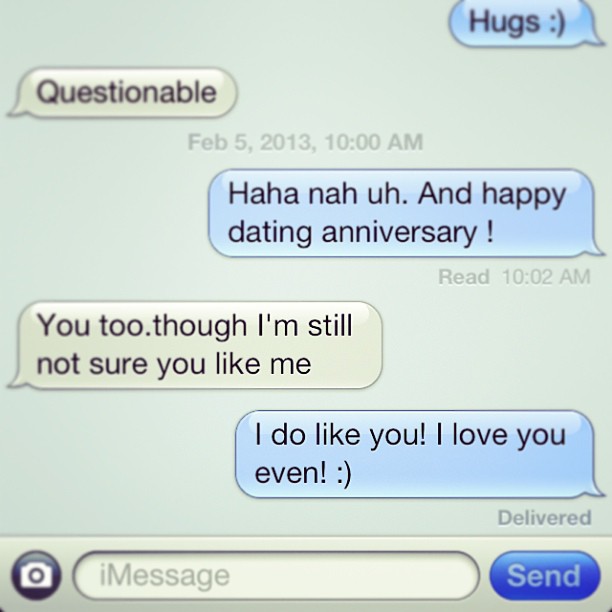 And as the text mentions, yesterday, six years ago, Rick & I went on our very first date. Rick doesn't remember all of our random anniversary dates, but I do! And if I forget, I now have the Internet to remind me since I talk about them on here. ;) I can't remember if I've ever blogged about our First Date. I will have to do that sometime. ;) Anyway, I am thankful for that first date because without it, we wouldn't be together. Thanks for asking me out, Rick!
Last night, I watched Doomsday Preppers for the first time. I watched it to see how insanely scared these people are, and what happened after that?! I had a nightmare.
Not just any nightmare, either. A nightmare that involved a girl I went to high school with vandalizing our house with a bat. And then? Well, of course then an earthquake occurred. Umm, no more Doomsday Preppers for me!
So, thanks to that nightmare, I'm running on five hours of sleep. I'm surprisingly chipper despite that, though. Yay Wednesday! :) Okay, I need to go before I tell you about all of my other random dreams/nightmares.
Have a wonderful day!
Bethany