If you are here to see pretty pictures, feel free to look at the pretty pictures below and then go about your merry day. If you are a photo lover like me, you are in store for a treat! I am going to start reviewing and talking about the lenses that I own and use regularly. Plus, there will be pretty pictures. :)
One of my favorite lenses is the Nikkor 50mm 1.4G.
A 50mm on my full frame Nikon D700, is considered a "normal" lens. That means it is similar to what the eye can see. This used to be my absolute FAVORITE lens. However, I have a new favorite that I will cover soon. ;)
What I love about this lens is:
No distortion on the edge of the frame. That's key when photographing people. I would say this lens is on my camera 75% of the time on a wedding day. (I know what you're thinking, why is this not your favorite lens if you use it so often!? But, like I said, I'll cover that soon!)
Low-light Awesomesauce. Seriously. I love being able to stop my aperture down to 1.4 and still capturing moments like this:                                  1/50th of a second, f 1.4, ISO 1600 – C & G's Wedding
Lightweight & compact to shoot with. This might seem like a lame reason, but trust me, it's great. After carrying around a bag of stuff all day on a wedding day, compact & lightweight is my BFF. 99% of my reception coverage comes from this lens.
It allows for excellent details, with rich colors & bokeh (a.k.a. blur in the background).
All in all, it's a great lens. I would definitely recommend it to anyone, professional or not, who wants a lens that performs well in low-light and is easy to travel with. It is a workhorse and I don't ever want to live without it.
And now, enjoy some pretty pictures I've taken with the 50mm 1.4G: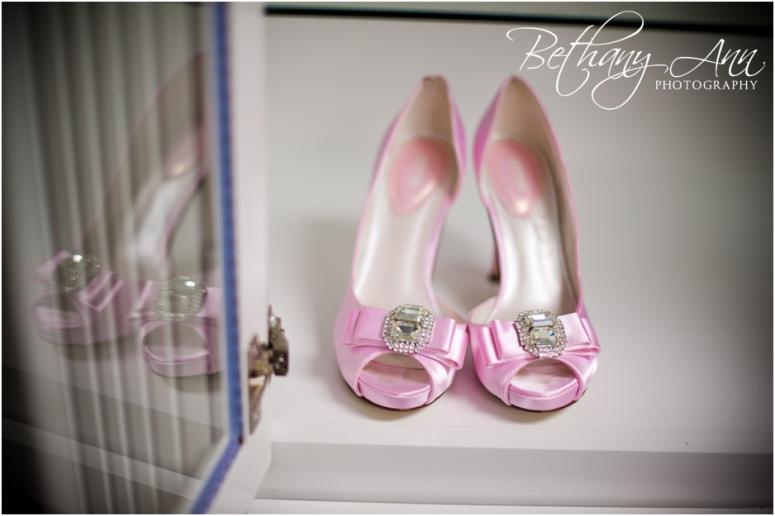 1/250th of a second, f 1.4, ISO 200 – Olivia's shoes


        Left, 1/50th of a second, f 1.4, ISO 2000 – Danielle & Adam's Wedding; Right, Photographed with my SB900 flash at: 1/200th of a second, f 2.0, ISO 250 – A & L's Wedding



                                               1/320th of a second, f 1.4, ISO 250 – Kayla & Josh's Cake


           Left, 1/1250th of a second, f 2.5, ISO 320 – Danielle & Brent's Wedding; Right, 1/250th of a second, f 3.5, ISO 400 – Jodi & Jarrod's Wedding


                                               1/2500th of a second, f 2.0, ISO 200 – Lauren & Chris' Wedding


                                                       1/125th of a second, f 2.0, ISO 1250 – Lauren & Chris' Wedding
Have a fabulous day,
Bethany
P.S. This is my personal opinion and experience. This isn't the be-all-end-all of lens reviews. ;)