I love this quote:
"When you see an image, you've missed it. So you have to be five or ten seconds ahead. It's the one that I missed that will haunt me for months." -Dan Milnor
Even before I was a photographer, I had this motto that I would say to everyone I went shopping with, who might be on the fence about purchasing an item:
"If you are going to regret NOT getting it, you need to get it."
I still say this today. And since reading that quote from Dan Milnor a few years ago, I've added a new motto (well, question really), when taking photos:
"Am I going to regret not taking a photo?
It's kind of a double-edged sword when it comes to taking personal photographs – with my professional camera, that is. I want to take photos for me, to keep my creativity alive and fresh, but when I have photographed lot for "work," I often don't want to lug my camera around.
However, when I think, "Am I going to regret this?" I know 99 times out of 100 the answer is yes.
That's what happened on Tuesday. I rushed downstairs to head out the door, petted Lexi on the head, where she was sitting in front of the patio doors, and then I stopped. The fog. The beautiful, magnificent fog right outside caught my gaze. I knew I had to run back upstairs, grab my camera, and take a few images. It was too gorgeous to pass up, and plus, the fall colors were still hanging on. I knew if I waited until the next day, the fog might be different, and/or the leaves might be gone.
I am so glad I don't regret this.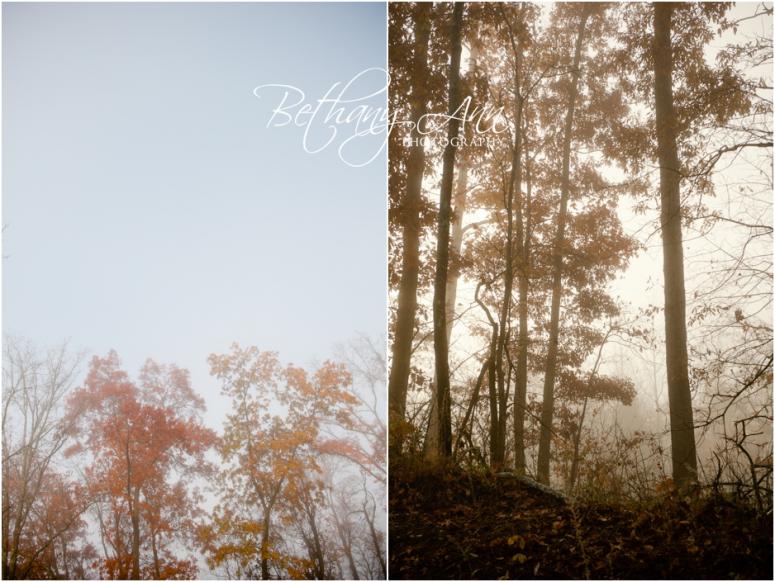 Have a fabulous weekend!
Bethany
P.S. Thank you for all the love yesterday on my birthday!!! I am sending out virtual hugs to everyone!!! <3