This is going to be a two-posts-in-one-day kind of day. I say this because this is the "bad" post and later today I'm going to follow it up with the "good" post that I already had planned for today. :)
Yesterday night, all I wanted to do was watch the drama unfold on The Bachelor and edit a few photos. However, my plans were interrupted by a can of pineapples. Well, that and my stupidity!
Rick called to let me know he was on his way home and I asked, "Chicken or frozen pizza for dinner?" After debating and initially deciding on frozen pizza, I decided to surprise him with this chicken and pineapple fajita recipe.
I gathered the ingredients and grabbed a can of pineapples. I debated on assembling and using my brand-spanking-new can opener I got for Christmas, but decided that I would use the old hand held can opener that I hate one last time. Plus, I admit, I was being lazy.
The can opener didn't cut through two spots in the lid, and, after trying again several times to run the can opener over both spots, I had the stupid idea to pry it open. It's funny because while I was prying it with a plastic spatula, (yes, A PLASTIC SPATULA for crying out loud!) I thought, "Oh, this isn't the smartest idea."
Then BAM. The lid opened and there's blood everywhere.
I honestly wouldn't have known I was cut if there wasn't so much blood. It didn't hurt at all when it happened. Actually, I didn't feel it until about ten minutes later while waiting for my friend to take me to the ER. Rick didn't think he would be home soon enough, so he told me to call my friend, and said he would meet us at the ER. My sweet husband drove way too fast on the interstate and arrived before us. And my parents? Well, they are sweethearts, too! They drove to the hospital, too, to be with me, their baby. :) (I don't even remember telling them to come to the ER, but Mom said I did when I called her.)
I am actually surprised that I didn't cry. I only wanted to cry while sitting in the waiting room. We sat there for about 40 minutes and it was packed. I didn't like all of the commotion and noise. Or the amount of, dare I say, happy, people in the ER. Here I was with cut wrapped in a dish towel and there were so many people laughing and smiling! Did they not realize that I was in pain?!
The urge to cry soon dissipated when we got to a room. Room number 5. Yes, I couldn't have planned it any better! I even said to the nurse, "That's my favorite number. Well, one of them!"
That's when the laughing started. Rick and Mom came back to the room with me and we had, dare I say, fun, laughing and joking with the nurse and nurse practitioner.
We even had a wager going as to how many stitches I was going to need, and being the overly enthusiastic person that I am, I said "Fifteen!" Ha! Yeah, it was more like four! :)
It is in a terrible spot though. It's on my right hand ring finger, where a ring would sit, in the bend of my finger.
Needless to say, I threw away that old can opener. And whenever there's an option for frozen pizza, I'm going to stick with frozen pizza.
Because every experience is a photo opportunity, enjoy these cell phone images we snapped. :)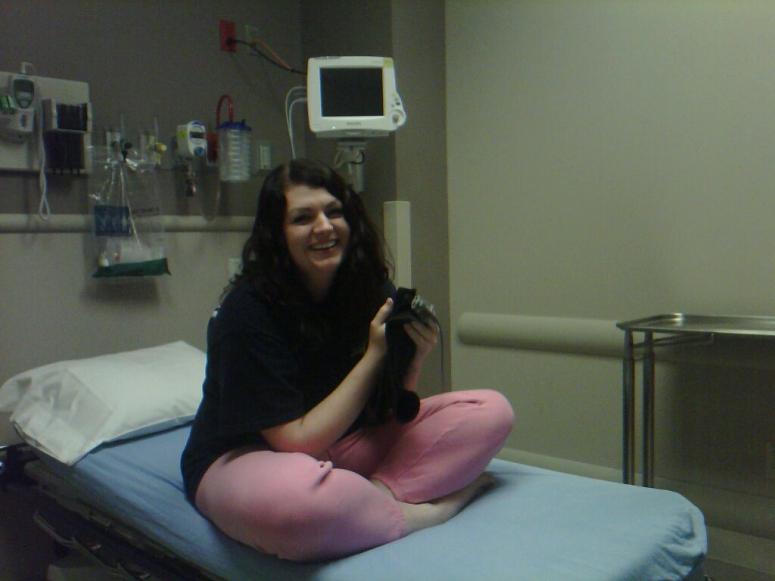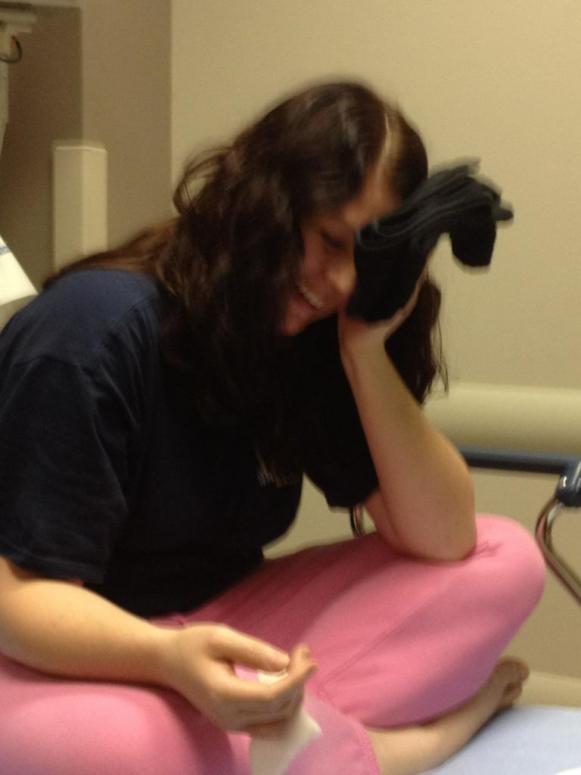 P.S. I think I'm going to throw out those pink PJ pants too. Totally not flattering! Haha!
Bethany
Contact Me! – Like My Facebook Page!