Last night, I snuck into bed at 1 AM after working and watching Friends reruns way too long. No matter how many times I have seen a Friends episode, they still make me laugh SO much. Much to my enjoyment and Rick's dismay, Nick-at-Nite has been providing reruns of it for a few weeks now, and I have it set to record every. single. episode. :)
Anyway, last night, when I snuck into bed, just as I gently laid my head down on my pillow, Rick, in his slumber-ish state, reaches over and YANKS THE PILLOW OUT FROM UNDER ME. And then? Well, then he rolled over and continued snoozing. I began giggling uncontrollably at how hilarious this was, because he's never done that before. I'm usually the pillow stealer, after all.
I said quietly: "You stole my pillow!" and continued giggling.
Then, not even ten minutes later, he randomly woke up and went downstairs to get a drink. And then? Then I STOLE MY PILLOW BACK. Take that, Husband!
We have been married one whole year as of last Saturday. One year! That's crazy to me. Crazy in a good way, that is. :) Here are some random facts about our wedding day.
1. We had decorations, but it was so darn windy that we didn't use very many of them. And you know what? I didn't even notice until after the wedding. I was on cloud nine the whole day, and not stressed at all about anything! :) And you know what? We all had a wonderful time regardless of decorations. ;)
2. The wind was so insane and it was a bit chilly – or so I'm told. I thought the weather was just right because I'm hot natured. It was a perfect day in my opinion!
3. We had a bagpipe player! Yep, my dad's friend played the bagpipes for us. How cool?!
4. I had grease on my dress before I got married and I didn't care. :) (I leaned against a tractor for some photos and apparently got a little too close! haha!)
5. Pretty much everyone invited to the wedding saw me before the wedding. It was fantastic! I loved being able to visit with everyone before and after the wedding. I didn't want to be "secretive" on my wedding day. I wanted to share it with everyone, so that's just what I did. :) Plus, Rick and I were able to spend the majority of the day together since we had a First Look. ;)
6. A grasshopper hopped on the back of my dress and rode down the aisle with me… and everyone told me that same fact after the ceremony. It was awesome! He wanted to get married too!
7. I rode in a golf cart on my wedding day! We drove around in it to different photo & video locations. :)
8. This is probably my favorite photo of the day: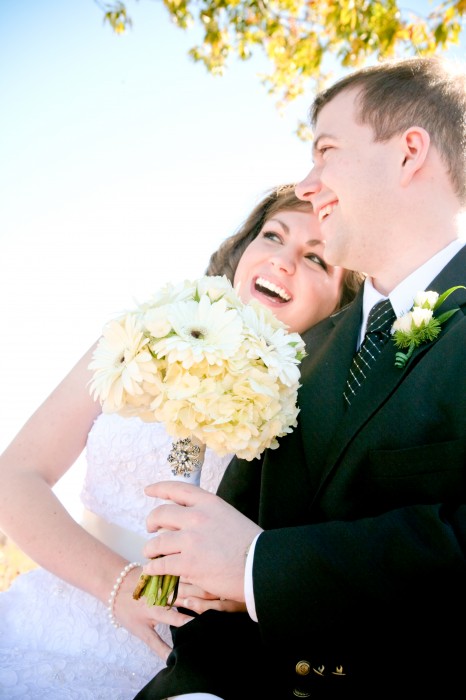 Wedding Photo Courtesy of Joan of Art Photography.
Here's to more years of stealing pillows, giggles, and Friends reruns. :) I love you, Rick!
If you haven't already watched our wedding films, check them out below.
[epic] trailer from Turning Point on Vimeo.
Wife'd Up! from Turning Point on Vimeo.
Have a great night!
Bethany
Friend Me On Facebook! Like my Facebook Page! Contact Me!