Talk about some amazing alliteration in the title, right? :)
Today, on Valentine's Day, I would like to reflect back to my first Valentine's Day with Rick. It was my first Valentine's Day with a boy… ever. I always seemed to be single on Valentine's Day until Rick came along. :) Well, except when I was in like second grade and gave a boy a box of candy with Pepé Le Pew on it. No, I'm not kidding. Pepé Le Pew!!! That doesn't count though, because I was under 10 years old. :)
Rick and I were together for only 9 days prior to Valentine's Day 2007, so our relationship was still so new. And, neither of us knew that the other person lacked even the slightest sense of direction. Seriously.
He decided to surprise me with dinner and a comedy show in Nashville. He wouldn't tell me where we were having dinner (or even that we were going to a comedy show). And so we set out to Nashville with printed directions. (This was before either of us owned a GPS.) He even cut off the names of the places and just labeled them so he could identify which one was what.
As we got closer to Nashville, Rick asked me to check the printed directions and tell him where to go. So, I told him he should definitely stay on the interstate and not exit, even though the exit clearly had Nashville on it. About 20 minutes later, he realized we were headed towards Memphis! Now, I don't know how lost we really were, but at the time, we were going to miss our dinner reservations because of those 20 minutes.
Like I said, he really didn't want to tell me where we were going, however, at that moment, he had to. Since he was navigating our way back to Nashville, he needed me to call the dinner reservation and see if we could move it. So, BOOM, I found out on the phone that we were going to a fancy-smancy place. I mean, I knew he said to dress up, but honestly, I didn't remember until that moment that I wore SOCKS WITH STARS. And my dress pant legs weren't long enough to cover them when I sat down. (I know, so classy – right?!) In my defense, I love socks with stuff on them. Stuff like stars, monkeys, polka-dots, etc. They are just too fun, and for a long-legged lady like myself, most of my pant legs ride up to reveal my awesome-sauce socks. But, on that day, I was so embarrassed by them. What would this handsome man think of my childish, silly socks?! haha!
We eventually made it to the restaurant and they kindly held our reservation for us – even if it was about 40 minutes later. After dinner, which was delicious, we attempted to find the comedy club – and got lost again! We eventually had to stop at a gas station and ask for directions. Thank goodness Rick allowed plenty of time in between dinner and the comedy show, because we made it there just in time.
I don't even remember if the comedy show was any good, but I had such a great time with Rick. I will always remember our first Valentine's Day revealed that neither of us have any sense of direction. And that even if I wear socks with stars on them to a fancy-smancy place, Rick will still love me regardless. :)
And because photos are fun, here's a photo of us after he dropped me off at the dorm. He had his roommate drop off a dozen roses to my roommate so it would be another surprise for me when I arrived home. So sweet! And wow, we look SO young here: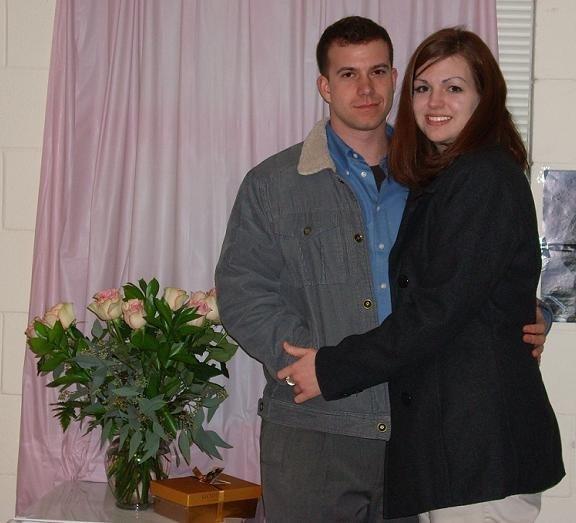 Happy Valentine's Day!