May 15th 2010 was the day my best friend Tiffany got married! The night before, I spent the night at a family friend's house with Tiffany and her mom. We had such a blast talking, giggling, and taking photographs. Almost all of the ring, shoe, and dress photographs were taken that night. Then a week after the wedding we took most of the bride & groom photographs. It is what photographers like to call a "Day After" session. It doesn't have to technically be the day after the wedding, but sometime after the wedding the bride & groom dress up in wedding attire for more images. :) I am very thankful to the kind family that let us stay the night before the wedding and come back for more photographs a week later. Their home was a great location for these images. Thank you, Judy & Gary!
I wore many hats on Tiffany & Michael's wedding day. I was the best friend, the photographer, the hairstylist, the chauffeur, the nail lady, and the sock retriever. Yes, sock retriever! See, what happened was, Tiffany and I arrived at the church for the wedding, and I went inside to make sure Michael was tucked away in his room so he wouldn't see Tiffany. After I told him to stay put, he asked if I could go get his socks from his truck. So, I retrieved his socks from his truck. :)  By the way, I really should stick to photographing instead of chauffeuring because I missed a turn on the way to the church! Thankfully, we arrived before ceremony time. LOL
As for the hair stylist. I straightened Tiffany's mom's hair. I did a good job on that, because I used to straighten my hair a lot back in the day.
I also gave Tiffany a french manicure. Her mom, Carol, started the job and after I took a few photos, I offered to finish the job because Carol needed to head to the church. :)
The best friend part is easy to explain. We met in preschool. Yes, preschool! And then we went to the same college after high school graduation. I always joke with all my friends that they have a photographer for life. :) And best friends are the ones you turn to in the middle of the night when you have your heart broken, lose a loved one, hear a funny joke, and fall in love. :)
I could not have picked a better guy for Tiffany! Michael is a caring, gentle, funny, and God focused man. Tiffany is well taken care of in the hands of Michael. As is Michael! :) They are self-less in their relationship and always make each other laugh. Their wedding day was classic and wonderful. It was focused on their commitment to God and each other. I had to fight back tears from behind my camera. My little Tiffany is all grown up! It literally seems like just yesterday that we took their engagement pictures. However, that was over a year ago now, and these two have been married for three months already! I am so lucky to have Tiffany as my best friend and Michael as my best friend-in-law. Yes, that's the technical term. haha!
Now onto the photographer part! Here are photos of their heavenly day. :)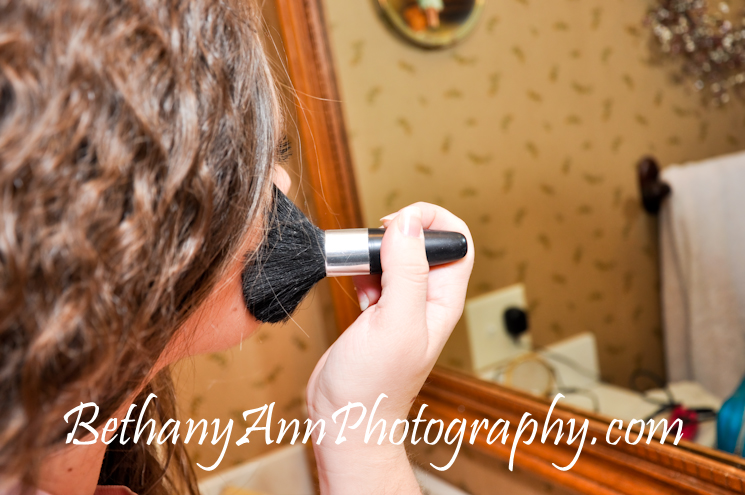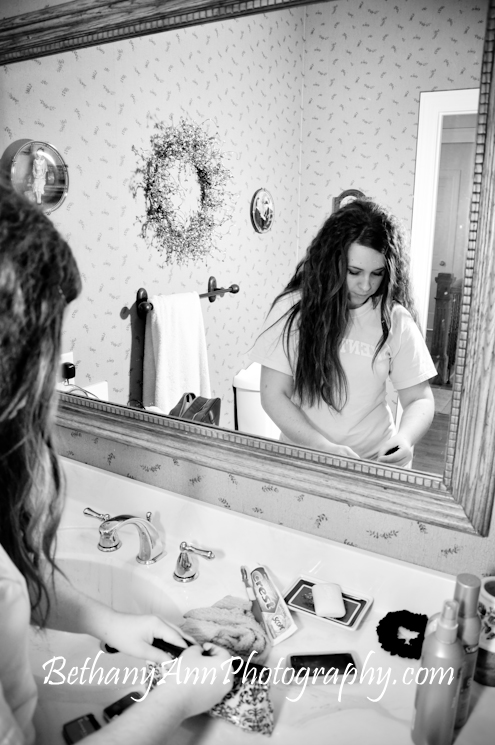 Beautiful, beautiful, beautiful!


Patiently waiting:




Putting his socks on:


Happy day!






I showed Tiffany her wedding images on Monday night and we were both cracking up that you could read "Tungsten" inside Michael's ring in this photo. :) I love my camera!


A little different take on the wedding rings:


Earrings & Shoes:


A few ceremony photos:


Tiffany & Michael decided not to have anyone stand up with them, so Tiffany held Michael's ring on her thumb. I love that I caught it in this image:




Love this perspective:


The kiss!


Bride & Groom Photo Time!




I promise the bride was not hurt in the making of this image:


These two make life FUN!


Love the afternoon light:


Gorgeous!




I'm a huge fan of this:


Oh, and this! Everyone has got to love kissing on the stairs. :)


I wish I could remember what they were laughing at in this:


Ahhhhhhhh! Another one that is just so lovey dovey:


One of my favorites:


And another favorite:






I posted the color image of this on Facebook and it got rave reviews. Thank you, Tiffany, for being AMAZING!




Dreamland:


Fairytale:


Lens flare love:


How hilarious is this next image!? Michael did this on his own. Tiffany did this on her own. Tiffany said later that she couldn't understand what my hand motions were. Michael said later that he was just being goofy. It turned out hilariously. :)


Last one:


Check Facebook for more images from their wedding day. I am going to post more later!
Tiffany & Michael, I love you both very much. You two are such an inspiration to couples everywhere. I am so blessed to know you and watch your marriage grow throughout the years. And I'm so excited to be your photographer for life. ;)
Love,
Bethany