On Monday, after looking at a few more houses, Rick and I decided to put an offer in on a house.
We officially put the offer in on Wednesday.
Yesterday, we got a call from our realtor who told us there were more offers than ours on the table. So, we had to put our best offer in and then sometime this weekend the sellers will pick their best or favorite offer. And then, if they don't pick us, we have to continue looking for our house.
I had imagined what would happen if the sellers rejected our first offer all together, or if they countered, or if they came back at full price. I had never imagined what would happen if other people put offers in as well. We don't know if it's one offer, or two, or even three. We have to wait and see.
Ahh, to say my heart was a bit broken is an understatement. I felt defeated. I still feel defeated. We probably won't know until Monday what the sellers decide, but for the first time in this whole experience, I'm not that optimistic.
After we put in our best offer, I searched online for more houses, and kept comparing them to this house. I'm trying to remain positive, but the thought of trying to find a house we like more than this house is daunting. The houses in the areas we are looking are selling fast.
Who knows? We could have the best offer and this house could be ours. For now, I'm not getting my hopes up.
So, that's where we are on the house hunt. I am so glad today is Friday and that I have a busy weekend planned. I hope that will help keep my mind off of this house stuff.
And if we ever, ever, ever buy a house I want to do this: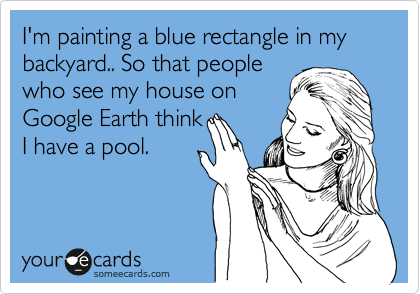 Have a nice weekend!
Bethany