Yesterday, Mom reminded me of a conversation that she had with Rick when we first started dating in 2007. She said that Rick stated that we would probably never fight. Never, ever, ever! His reasoning was we think so much alike and agree on so many things that it would be impossible to fight. Mom just laughed and said, oh yes, you will fight, as it's just a part of relationships.
After she reminded me of that story, I laughed and said, "Mom, we got in an argument over toothpaste the other day!"
Seriously – toothpaste!
Ahh, young love. So new, enthusiastic, and hopeful!
I wouldn't trade being married and having this more developed type of love for young love, though.
It's secure, yet still romantic. It's still hopeful in the way that we know we are going to have many different life experiences – good and bad – together. And, as time has changed us separately, it has changed our relationship, as well, for the better. Yes, we have disagreements, but it is with the knowledge that we are in this for life, so we will fight through it to be happy. It's the kind of love that make disagreements worth it.
And, yes, apparently some of our little arguments involve toothpaste in the grocery store. Apparently, if we have four tubes of toothpaste already, we don't need another one! Oops! ;)
Us in March of 2007: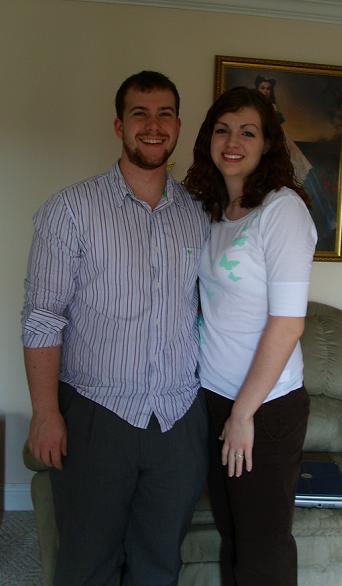 Have a great weekend!
Bethany