Danielle & Brent had family only wedding on the last Saturday in July. And their wedding day? Well, it was phenomenal. Phenomenal! Originally, they just wanted to run off and get married. Who can blame them? Weddings can be stressful! However, weddings can be phenomenal! You don't have to stick to the same-ol' same-ol' when planning your wedding. Danielle & Brent are perfect examples of using their personalities, styles, and hobbies as a way to really personalize their wedding day. For example, Danielle, owner and designer extraordinaire of Dani B. Couture, made her own wedding dress. And it was yellow! She also made her bouquet out of brooches, burlap and fabric flowers. So fab! :) In addition, she made Brent's boutonniere, (out of feathers, burlap, and fabric!) and his tie.
They decided to get married in the morning, and have a lunch reception. How neat? After their First Look and family photos, Brent's mom, Ms. Carrie Joy (Love her!) asked them "So, is it time to get married?" And get married, they did. :) I love how laid-back and personal every aspect of their wedding day was.
Don't you just love this house? It's Brent's parent's home, and it was a perfect backdrop for the wedding: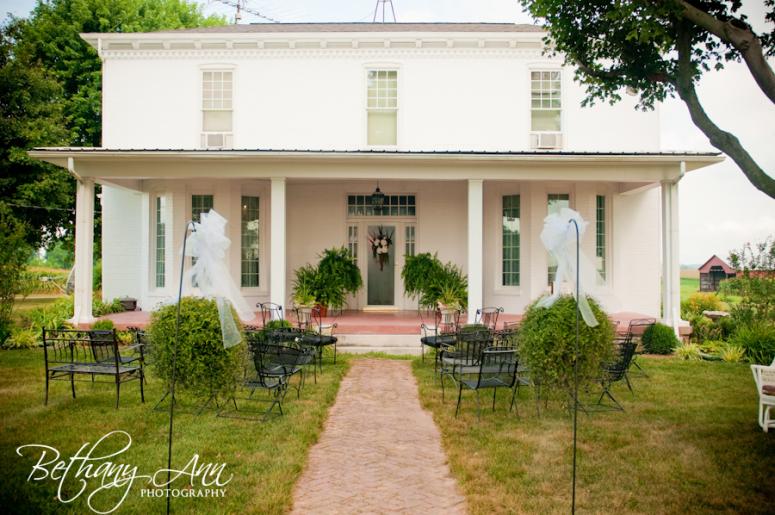 Danielle wore the boots on the left when they left for their honeymoon; she wore the sandals on the right for the wedding.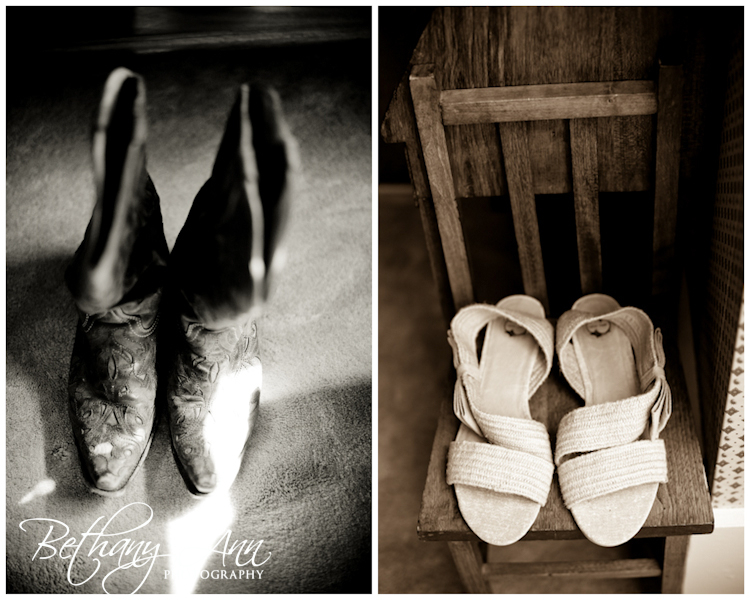 Love this sign! It was so perfect since they got married on a farm and Brent is a farmer! ;)


Gorge! (That's abbreviated for gorgeous, by the way!) ;) Love the one on the right:


:)


Yes, their ring bearer was their sweet dog Elly! She was adorable and so well-mannered. You may remember seeing a few photos of her in their engagement session post, too. :) Also, Danielle made Elly's collar that held the rings securely. So neat!


See the first line, Brent's Pulled Smoked Pork? Yep, Brent cooked the pork the night before! The pork and all of the side dishes were so delicious. 


All of the details were southern and charming: 






Birdcage over the cake? Sweet!


Cute, right?


This moment was one I will always remember. Brent was SO excited about seeing Danielle. I mean, SO excited. Granted, all grooms are, but Brent's enthusiasm was so contagious.




:)




Yay!


Adorable:


Their happiness is so evident! I've said it before and I'll say it again, I love love!


Sweet Elly watching her Mom & Dad get their photos taken:


These signs were so cool. Danielle found the middle sign online, and her younger brother surprised her with the "Bride" and "Groom" sign right before the next photos. He made them and they fit perfectly with the other sign! :)  


I love this sweet glance:


The sky was amazing that day too:


Yay! We played in the corn field. :)








Brent's amazing boutonniere:


I love this one that my second shooter, Amber, captured:


And this one too! I like that you can see the intricate lace and flower details on her dress:   


See how well-behaved Elly is? I could've taken her home with me! ;) I'm not sure they would have appreciated that, though! hehe! :)




Some more gorgeousness:




Isn't her bouquet amazing, too?!  


All of their family members were so welcoming!


:)


Brent's tie with their wedding date and initials:








A few from the ceremony:






I adore this moment!!!! They were cracking up because the preacher was about to say they could kiss as Husband & Wife! :)




Yay!


Brent picked out the most gorgeous yellow diamond engagement ring, didn't he?


Oh, the veil! I forgot to mention that Danielle surprised everyone by wearing a veil. She didn't even tell her mom! She wanted to keep it a complete surprise. It was a fun surprise and neat to play with after the ceremony:


Love:




Ahh, her bouquet, again! ;)


I love this concept:  


One more of the sweet Mr. & Mrs.!


Thanks to the new Mr. & Mrs.!  I'm so glad I was able to capture these sweet memories for you. :) I wish you all the best! Thank you to both of your families, too, for your endless and sweet hospitality.
Have a great rest of the day!
Bethany