When a bride and groom decide to have a First Look, where they see each other before the ceremony, the flow of the wedding day goes much smoother. I say this as recent bride who had a First Look and as a photographer.
Years and years ago, the tradition of a groom not seeing his bride before the ceremony began because of arranged marriages. Parents of both the bride & groom did not want the groom to run away before the ceremony if he saw the bride.
Today, it is considered a romantic idea for a groom not to see his bride before she walks down the aisle. However, the romantic idea is often just that, a romantic idea. The reality of weddings today is that often times guests are hungry, family members are tired, and photos are rushed through. Let me rephrase that; photos of the bride & groom are rushed through.
As a photographer, this hurts my soul when brides & grooms want to rush through their photos, which will last forever, in order to make it to the reception, which lasts into one night. In addition, if a couple plans a sunset ceremony, the sun will disappear long before bride & groom portraits occur. Any photographer will tell you that great, sentimental photographs take time to create, and that time is often never planned for in the timeline. Even if you decide not to have a First Look, make sure to plan for enough portrait time for you and your husband.
Not only is it beneficial from a photographic standpoint for brides & grooms to see each other before the ceremony, but it often adds another memory of the wedding day that neither of them anticipates; the actual reveal moment. Capturing these moments are so sweet and priceless. Some of my favorite images happen during the reveal moment. After my own First Look, I can honestly say that reveal moment was my favorite part of the day. My husband's reaction was truly priceless and oh-so-sincere. We were able to have "us" time and discuss our excitement for our upcoming wedding and marriage. If we waited until after the ceremony, we never would have had that experience together. I'm so fortunate to have that moment in photos (and on video!) forever.
After our reveal moment, the portrait session was fun, relaxing and most of all, stress free. We finished the family and bridal party photos before the ceremony, as well, so everyone could head to the reception right after the ceremony. Another aspect from my wedding that I cherish is that we were able to spend the majority of our wedding day together.
Often, brides think they have to follow guidelines during the wedding to ensure the perfect marriage, but, in my opinion, that's so 1920′s. In this day and age, rules don't apply to weddings. You can decide not to toss the garter and bouquet, or have cupcakes instead of a cake. And you can decide to have all of your images taken before. I promise, the moment he sees you walking down the aisle will still be just as special, if not more, for him and you. (Yes, I checked with my husband for this answer and he confirmed my beliefs!)
Happy Wedding Planning!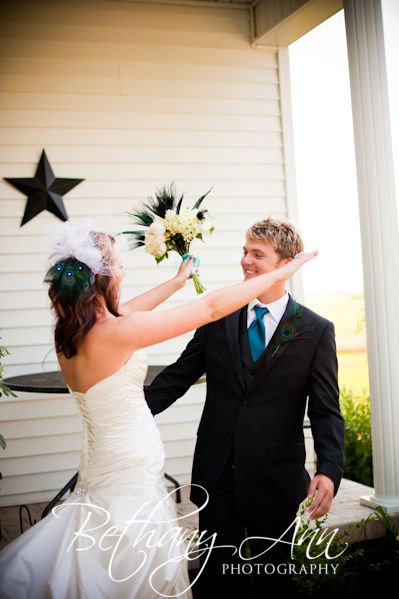 Whether you want to have a First Look or keep it traditional, just remember to do what makes you and your groom happy. :)
Bethany
This article can be seen in the 2012 issue of the Clarksville Brides Wedding Magazine.