Today, I have a special treat for you. In addition to giving some tips on how to plan your wedding day if you decide to forgo a First Look, I have interviewed one of my lovely, lovely brides and now dear friends, Kayla. In July of 2011, she tied the knot with Josh, and they decided not to see each other before the ceremony. While 90% of my couples do see each other beforehand, it is certainly not a requirement. It is your wedding, after all. :)
Since I have written about having a First Look before, I thought, why not offer tips for those who decide to skip it?
1) Do not have a receiving line. A receiving line is where you greet all of your guests immediately after the wedding. This delays the start time of the portraits significantly depending on the amount of guests in attendance. Even more heartbreaking, it will physically drain you, your spouse, the bridal party, and family members greeting and talking to all the guests. This, in turn, makes the portrait time feel painful (since you are so tired from greeting EVERYONE,) and that can significantly affect your images – and your experience. (Just a heads up, this is especially true for young children in bridal parties.)
2) Discuss a photo timeline with your photographer. He or she needs a certain amount of time for bridal party, family portraits, and bride & groom images. It is always best to talk to your photographer at least 2 months in advance to finalize the schedule and put it on a master timeline that you can distribute to your family & bridal party.
3) Hide everyone involved in images – you, your new spouse, family & bridal party – after the ceremony in a predetermined spot as discussed with your photographer. If you all begin to mingle with guests right after the ceremony, that will delay the portrait time, which will delay your reception arrival, and so on.
4) Do not have a sunset wedding. That sounded harsh, right? Well, the problem with a sunset wedding (and no First Look) is, after the ceremony, the sun will be gone. Obvious, right? ;) But, it is something to think about. If you love those gorgeous sunset images, they cannot be recreated without sun. If your photographer is a natural light lover, and you picked your photographer for that reason, then plan your ceremony for at least two hours before the sunset. In addition, if you are having a fall or winter wedding, check the time of the sunset verses when your portraits will take place. I have recommended fall/winter couples to have a First Look, or move their ceremony time for that very reason.
5) And finally, along the same line as number 3, make sure your family members and bridal party know where to be after the ceremony. Make sure ALL family you would like in the images get that memo, too. Trust me, you do not want to wait ten or twenty minutes for Uncle Bob to appear because he doesn't realize he was needed in the portraits. And you especially do not want to wait around in the hot, humid sticky air in the summer, or in the chill of fall.
And now? Now it's time for my interview with Kayla. Enjoy reading about their wedding, their decision to not have a First Look, and what they are up to now.

First of all, describe your wedding in a few sentences?
As cliché  as it sounds, I would describe my wedding as the happiest day of my life. I can't look back on it without smiling. It was sweet, beautiful, and more than what I imagined it would be. We got married outside in front of a gazebo at an old farm house surrounded by cornfields. It rained most of the day, but cleared up by the afternoon and evening, so even though it was a little humid, we had our outdoor wedding! I was also shocked at how much genuine FUN I had. I felt like I was laughing or smiling the whole day!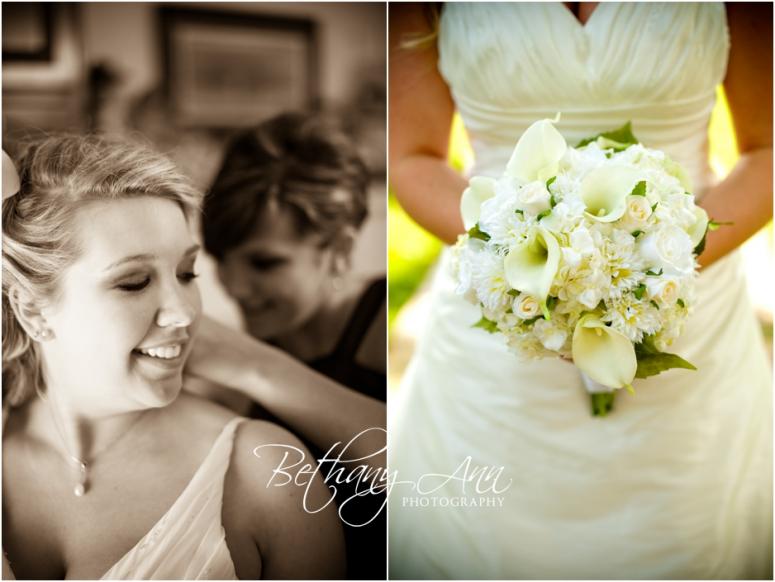 What was your favorite part?
It's so hard to pick a favorite part, but when I think about the moments that stand out the best, I think of the moments spent with my brand new husband. It was those first few moments after the ceremony, completely lost in that "WE'RE MARRIED!" high. It was spinning around on the dance floor with my husband and my new "bonus" son. It was laughing and enjoying the company of our guests during the reception with my beautiful family by my side.






What was your least favorite part?
My least favorite part of my wedding was the stress and worrying. I am a pretty relaxed person, but a wedding can bring out the Nervous Nelly in anyone. Once the ceremony started and I was officially married, all the worry went away and I could really enjoy myself. Before that I worried about everything from the rain, to my curls falling out. I wasn't a complete stress ball, but looking back I wish I would have relaxed COMPLETELY so I could enjoy the time with my family and bridesmaids even more.
Why did you decide to wait to see each other?
We thought about doing a First Look, but we weren't thrilled with the idea. We decided we wanted to wait to keep the surprise and mystery alive. We both wanted the first time we saw each other to be on an aisle. I was so afraid that if we had a First Look we would lose the spark that comes with seeing each other only minutes before saying our vows.


Are you happy with your choice?
We were so thrilled with our choice! There is nothing like the feeling you get from seeing your almost husband waiting for you at the end of the aisle. He looked so amazing and I couldn't wait to be standing right beside him. It was such a special moment for him to look at me with a different look in his eyes and to whisper "you're so beautiful." After receiving our pictures, I was even more convinced we had made the right decision, the photographs say it all!




Do you think having a timeline helped?
Having a timeline for our wedding definitely helped things run a lot smoother, especially since we didn't do a First Look. We were able to get a lot of pictures before the ceremony with the wedding party and individual shots as well. It was actually kind of fun trying to sneak around and get everything done before the guys got there. Having a timeline helped us stay on track and also ensured that we were able to capture all the photographs and moments that were important to us. I was absolutely thrilled with the amount and variety of pictures we received and I think having a timeline contributed to that.


Is there anything you wish you knew before you got married?
I wish I would have known how quickly your wedding day passes by and how fast the "honeymoon phase" goes. I wish I would have known how important it is to make at least a little time for each other every day. It's easy to get sucked into a computer, the T.V. or phone every night. It took us a few months to figure that out. Once we started making time every single day for just us, we grew so much closer and had so much more fun together.




How has married life been since saying "I Do"?
We've been married for a little over year now and it's been amazing so far. Marriage isn't easy and it takes work, but it is absolutely worth it! We've grown together as a couple and continue to grow closer all the time. We've taken a family vacation and a couple of weekend trips as a couple. We've had a lot of new experiences together. We are also expecting a baby in early March and we're so excited! We are very happy together and are looking forward to many, many more years of a great marriage!


Thank you SO much, Kayla, for sharing. :) Take a look at more of their wedding images HERE.
Happy Monday!
Bethany